Nancy Grace Battles 2 Chainz over Pot: Why Won't You Think of the Children?!?!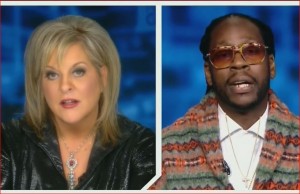 On Nancy Grace's show tonight, the rapper 2 Chainz made some very sensible arguments about legalizing marijuana and how it would be less of a burden on the economy and the criminal justice system. Grace's response was to shout at him about THE CHILDREN.
Grace found a small number of instances where some stupid parents gave marijuana to their infant children, and used this to argue that marijuana legalization is dangerous because of a few dumbass parents. 2 Chainz, for some reason, argued it's more an issue about parents taking personal responsibility for what their children are exposed to.
Yeah, personal responsibility, what kind of horrible message is that?
RELATED: Disagree with Nancy Grace's Anti-Pot Crusade? Well, You're Just 'Fat and Lazy' Stoners
Grace said, "If this is legalized, then everybody is gonna have unlimited access to pot and unlike other people that are responsible, irresponsible child abusers are going to have free access."
2 Chainz also brought up how arrests for having a small amount of pot could ruin a person's life, and they would be prevented from buying a home. Grace actually said, "If you want to qualify for a home, then why don't you just not smoke pot?!"
And, quite bizarrely, throughout the segment, Grace goes on a series of tangents unrelated to the subject at hand, like 2 Chainz' other aliases and the questionable content in his songs and music videos. She also showed video of 2 Chainz smoking because OMGZ HORRIBLE ROLE MODEL.
There are no words to do this justice, so just watch the full showdown below, via HLN:
[image via screengrab]
— —
Follow Josh Feldman on Twitter: @feldmaniac
Have a tip we should know? tips@mediaite.com
Josh Feldman - Senior Editor