Nancy Pelosi Was 'Amused,' Not Upset, By Luke Russert's Question About Her Age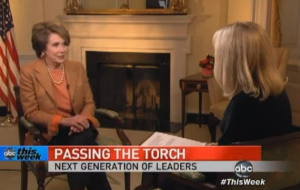 NBC's Luke Russert made headlines last week for the exchange he had with House Minority Leader Nancy Pelosi, after asking her a question related to her age. While Pelosi deemed it "offensive" at the time, during her interview on ABC's This Week, she said she was simply "amused."
RELATED: Nancy Pelosi Chides NBC's Luke Russert For Asking 'Offensive' Question About Her Age
"Some of your colleagues privately say that your decision to stay on prohibits the party from having a younger leadership and hurts the party in the long term," Russert had asked after Pelosi's announcement that she'd like to stay on the the House Democratic leader. "What's your response?"
"So you're suggesting that everybody step aside?" she responded. "Let's for a moment honor it as a legitimate question, although it's quite offensive. You don't realize that, I guess."
When Martha Raddatz asked about the incident on Sunday, Pelosi was all smiles. "You seemed genuinely taken aback and almost upset," Raddatz remarked.
"I do not agree with the characterization you just gave," Pelosi replied. "I was amused. I was surprised at the response of my colleagues because they were just very offended."
"Not you at all?" Raddatz asked.
"Well, me? I laughed, because I thought, 'Oh, they don't know what questions I have to be subjected to all the time,'" Pelosi said. "For me, this is a matter of course."
"If you ever wanted to ask that question," Pelosi added, noting that she had 60 women with her at the event, "you should save it or another day."
Watch below, via ABC:

Have a tip we should know? tips@mediaite.com