NRA's Wayne LaPierre And Illinois Democratic Senator Battle Over Background Checks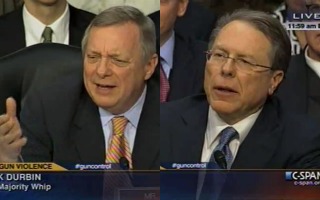 National Rifle Association CEO Wayne LaPierre and Illinois Democratic Sen. Dick Durbin engaged in a verbal battle during Wednesday's congressional hearings on gun violence. When LaPierre explained his and his organization's objection to universal background checks, Durbin admonished him for missing the point of prohibiting sales to potential criminals. The hearing had to be gaveled to order when the exchange became heated.

RELATED: NRA CEO Wayne LaPierre's Senate Testimony: 'Gun Owners Will Not Accept Blame For Acts Of Criminals'
"My problem with background checks is you're never going to get criminals to go through universal background checks," LaPierre said during Wednesday's congressional hearings. He added that the only thing this regulation would do would be to force law abiding citizens who seek to exercise their Second Amendment right to pay more in fees and taxes.
"We don't even prosecute anybody right now that goes through the system we have," LaPierre observed. "None of it makes any sense in the real world."
"Mr. LaPierre, that's the point," Durbin replied. "The criminals won't go to purchase the guns because there'll be a background check. We'll stop them from the original purchase. You missed that point completely."
"Senator, I think you miss it," LaPierre interjected in an attempt to rebut Durbin's argument.
Sen. Patrick Leahy (D-VT) gaveled the hearing to order as the crowd erupted into applause following Durbin's scolding of the NRA CEO.
Watch the exchange below via C-SPAN:
> >Follow Noah Rothman (@NoahCRothman) on Twitter
Have a tip we should know? [email protected]