Oh Yes, She Did: Manager Plugs Her Jewelry Store During CNN Mall Shooting Interview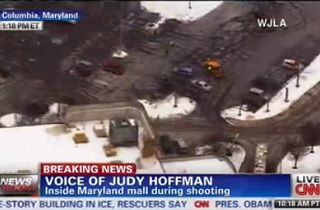 There are dedicated employees, and then there are dedicated employees. Case in point: Judy Hoffman, manager of the Fire and Ice jewelry store at the Columbia Mall, scene of a deadly shooting on Saturday, managed to keep her employees and customers safe during the incident, and in a telephone interview with CNN's Fredricka Whitfield, even had the presence of mind to throw in an enthusiastic plug for her shop.
"Judy Hoffman was a shopper in the mall," Whitfield said. "She's on the phone with us now. Where are you now?"
"Actually, I'm not a shopper," Hoffman said.
"Okay," Whitfield interjected.
"I'm a manager at Fire and Ice at the Columbia Mall, near Nordstrom's" Hoffman continued, adding "Fire and Ice is a very unique, fascinating store. We sell jewelry, fossils, a number of different unique things from all over the world…"
"So what happened? What happened while you were in the store today?" Whitfield cut in, at which time the promo ended, just short of CNN's audience finding out just how many convenient Fire and Ice locations there are to shelter in place at. Hoffman recounted the incident, which occurred "on the other side of the mall" from where she was.
When Hoffman said that Fire and Ice sells "fossils," she wasn't referring to a brand of watch, she meant actual fossils. Currently, they're running a special on a Brazilian Mesosaurus Fossil, which will run you $14,400.00, a 20% discount, and for the economy-minded Jurassic jewelry enthusiast, a pair of Sterling Silver Trilobite Dangle Earrings can be had for $151.20.
Here's the clip, from CNN:
Have a tip we should know? tips@mediaite.com