O'Reilly Gets In Shouting Match With Juan Williams About Holder Investigating Himself: 'Listen To Yourself!'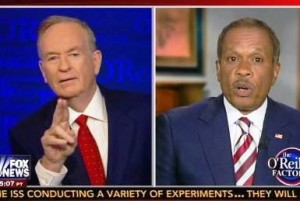 Bill O'Reilly brought Juan Williams on tonight to defend his insistence to Brit Hume during a Fox News Sunday appearance that Attorney General Eric Holder investigating actions that he signed off on is perfectly appropriate and not a big conflict of interest. O'Reilly told Williams, "That was lame, even from you," and yelled at Williams that it's beyond ludicrous for the attorney general to investigate himself.
O'Reilly told Williams that targeting James Rosen was beyond scandalous because of the "stupid affidavit" the DOJ filed that named Rosen a co-conspirator over a story he did on North Korea. He asked Williams how he can defend Holder simply on the statement that "he can't see everything," calling the justification "absurd." Williams shot back by saying the ways Rosen attempted to get information put the FBI and federal prosecutors on his radar, but they should have made it clear Rosen is a real journalist, not a Julian Assange-type leaker, and not gone after him.
RELATED: Brit Hume Dares Juan Williams: How Can Eric Holder Investigate Eric Holder?
O'Reilly brought up how Fox News was supposedly notified of the investigation, declaring that "we have no record of that." Williams said, "Hopefully that'll be proven one way or another," and that set O'Reilly off. He loudly proclaimed that Holder should have made the memo in question public last week when he said Fox was notified, shouting "Show us the memo! He can't! He doesn't have it!" He brought his rant right back to Williams' defense of Holder.
"And then you, Juan WIlliams, after all of this, tell Hume, who I think wanted to punch you, that Holder should investigate all of this himself! How absurd is that?!"
Williams maintained that Holder is "exactly the right guy" to investigate the matter. O'Reilly snapped back, "Listen to yourself!" He repeatedly asked Williams how he could think Holder should be investigating himself. Williams argued that it's not self-investigation, since Holder would be looking into "mistakes made" by those under him. O'Reilly shot back that Holder ordered it, and shouldn't be investigating any of it.
Watch the video below, courtesy of Fox News:
—–
Follow Josh Feldman on Twitter: @feldmaniac
Have a tip we should know? tips@mediaite.com
Josh Feldman - Senior Editor