O'Reilly Gets In Shouting Match With Juan Williams Over IRS: 'You've Been Pretty Crazy Lately'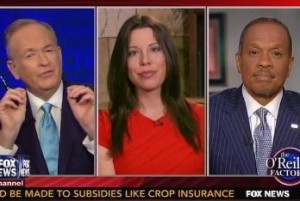 Bill O'Reilly opened a segment of his show tonight by telling guest Juan Williams, "You've been pretty crazy lately." If O'Reilly was hoping Williams would be different tonight, those hopes were dashed, as Williams aggressively fought back against his astonishment that the head of the FBI could not recall in front of Congress who is heading up the investigation into the IRS for tea party targeting. Williams also had some choice words for Republicans jumping to conclusions without any evidence supporting them, saying it's just slander.
RELATED: Juan Williams Goes Off The Rails Over NSA On O'Reilly: 'I Don't Want To Get Blown Up!'
Williams told O'Reilly he believes that FBI director Robert Mueller legitimately had no idea who was leading the IRS investigation. He explained that both parties "think the world" of Mueller, and he's not going to risk tarnishing his legacy by trying to cover anything up for Obama. O'Reilly likened Mueller's denial to him saying "I don't know who's on The Factor tonight!"
Williams rolled his eyes, shooting back that "The FBI's a massive organization!" O'Reilly and Williams got in a loud back-and-forth over this, with Williams saying Republicans jumping the gun and accusing the White House of having a direct connection without any evidence to support it is why Americans have such high contempt for Congress. Williams shouted, "How weak is that?"
Panelist Mary Katherine Ham said Mueller may not necessarily have acted with malice, but his inability to recall who was leading the IRS investigation is an "investigation of how seriously they're taking the investigation." Ham added that it's politically advantageous for the Obama administration to be silent on all of this, and took a shot at Williams by telling him the whole point of an investigation is to ask questions.
O'Reilly declared that someone needs to go to prison over this, while Ham continued hammering Williams and saying it's ridiculous to stay questioning should stop. Williams insisted that's not his argument, saying if they have evidence, they should show it, but they don't and they can't. He cited the IG investigation into the IRS targeting and the multitude of Benghazi investigations, telling O'Reilly that trust in Obama is so low, even young people are jumping ship at this point.
Watch the video below, courtesy of Fox News:
—–
Follow Josh Feldman on Twitter: @feldmaniac
Have a tip we should know? [email protected]
Josh Feldman - Senior Editor