O'Reilly Panel On Trayvon Martin And Racial Profiling: 'The Straw That Broke The Camel's Back'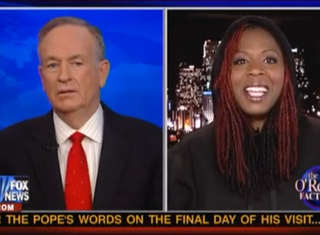 Bill O'Reilly dedicated a segment today to a side of the Trayvon Martin story he argued was not entirely clear– why so many people care so much about the case, and why it has sparked reactions like the Walgreens raid in Miami and Spike Lee's bizarre cameo in the story. Panelists Faith Jenkins and Jasmyne Cannick had a simply answer: racial profiling.

RELATED: Trayvon Martin Family Attorney Tells Bill O'Reilly: 'We Are Not Seeking An Eye For An Eye Here'
Jenkins began her argument with a blanket refute of all the wrong things that had been done in the name of Trayvon Martin. "We do need people not only to say we want justice for Trayvon… but also to condemn behavior that is inappropriate." Cannick agreed, adding that the reaction was because Martin was "the straw that broke the camel's back…through what happened to Trayvon Martin, we're allowed to have this conversation."
O'Reilly was still confused, however, asking "what is the conversation?" though recognizing many are "reacting personally because in their lives they have a frustration." He did defend profiling, however, when statistics show so much crime being committed by a certain group. "You're going to keep an eye on what group is committing the overwhelming amount of crime," he concluded.
Jenkins replied that even if there were statistical reasons to believe that racial profiling helped keep Americans safe, "it doesn't mean that racial profiling doesn't cross the line at some point," a point with which Cannick agreed. "When it comes to racial profiling, it can go too far," she argues, adding that much of the backlash to the Martin story stemmed not from anything particular to the case but the fact that, as a community, "we have been dealing with this for so long that when this happened to Trayvon Martin, it gave us an opportunity." Jenkins added that it was "troubling" to think a hoodie could mean danger for someone because of their skin color, and that it should be "not just to me as an African American, but to all Americans."
O'Reilly ceded that "you can go overboard with" racial profiling, and it is a problem, "but the stats are the stats– in New York, stop and frisk laws mean crime is way down."
The segment via Fox News below:

Have a tip we should know? tips@mediaite.com