O'Reilly Tears Into Bundy Sympathizers, Calls CNN's Stelter an 'Uninformed' Zealot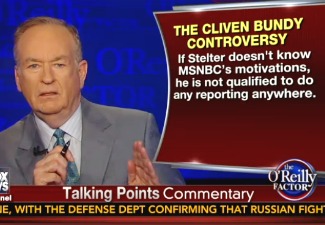 Bill O'Reilly took on the Cliven Bundy fallout Friday night, indirectly swiping at commentators (including those at Fox News) who sympathized with and got behind Bundy, but also took on CNN's Brian Stelter for taking a shot at Fox's coverage.
O'Reilly reviewed Bundy's "very offensive, ignorant remarks," explaining how ridiculous it is to suggest that under slavery, a brutal institution, the black family unit would have any peace at all. He declared, "What he said should be condemned by every good person in the world."
RELATED: O'Reilly on Bundy Fallout: 'Be Careful Who You Partner Up With'
However, O'Reilly also went after Stelter for saying Fox pursued the Bundy story with a zealotry with no equivalent on MSNBC. O'Reilly called Stelter a "committed left-wing zealot" and after playing his remarks, asked him, "Did you miss the months of coverage about New Jersey Governor Chris Christie on MSNBC? Did you miss that? Are you that dense, that uninformed?"
O'Reilly suggested Stelter took the shot because of CNN's "ratings problems," but ended by warning about "charlatans peddling garbage" and commentators "way too eager to gin up controversies without knowing the facts."
After the segment aired, Stelter tweeted out a response.
.@OReillyFactor Bill — thanks for the shout-out — but that video clip was preposterously out of context!

— Brian Stelter (@brianstelter) April 26, 2014
.@OReillyFactor Maybe you didn't watch the whole segment? I was answering a very specific Q. Here it is in context: http://t.co/fMJ3EMMD7U

— Brian Stelter (@brianstelter) April 26, 2014
Watch the video below, via Fox News:

[photo via screengrab]
— —
Follow Josh Feldman on Twitter: @feldmaniac
Have a tip we should know? tips@mediaite.com
Josh Feldman - Senior Editor