Pat Robertson's Advice To Cheating Husband's Wife: 'Well, He's A Man,' Don't Focus On The Adultery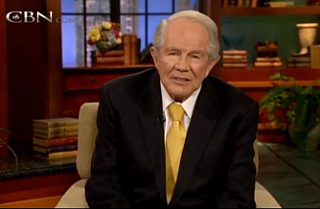 We here at Mediaite don't claim to be psychiatrists but, generally speaking, when a person just can't seem to forgive their spouse for adulterous behavior, there are usually several ways to proceed: Address any underlying trust issues with open conversation; split apart if the inability to forgive reflects a serious rift in the relationship; or… sweep everything under the rug and focus on changing your behavior so that the cheating spouse no longer feels the need to wander. Televangelist Pat Robertson seems to believe in the latter option.
On today's 700 Club, Robertson explained to a woman who couldn't forgive her husband's adultery that she should simply stop focusing on his cheating ways and instead focus on the positive aspects of their marriage. For instance, "Does he provide a home for you to live in? does he provide food for you to eat? does he provide clothes for you to wear?" Also: "Is he handsome?"
As for the man's culpability in being an adulterer, "Well, he's a man," said Robertson. "Like it or not, males have a tendency to wander a little bit and what you want to do is make a home so wonderful that he doesn't want to wander," he added.
Without knowing any details of the unnamed woman's personal life, Robertson imagined that the adultery was a one-night stand with a stripper in a hotel ten years ago. Instead of worrying yourself over that lurid situation, the televangelist said, "Give him honor."
Robertson concluded that perhaps it would do the woman well to focus on how thankful she is to live in a country like America, despite the Internet being "filled with pornography" and other temptations for male adulterers:
"What you have to do is say, 'My husband was captured and I want to get him free.' […] Begin to thank God that you have a marriage that is together and that you live in America and good things are happening."
Watch the timeless advice below, via Right Wing Watch:
— —
>> Follow Andrew Kirell (@AndrewKirell) on Twitter
Have a tip we should know? tips@mediaite.com