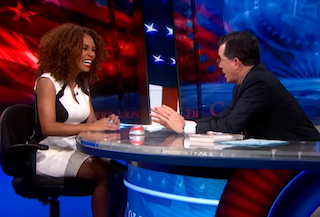 Stephen Colbert invited transgender activist Janet Mock on his show last night to discuss, among other things, her contentious pair of interviews with CNN's Piers Morgan that aired earlier this month. While Colbert tried his best to defend Morgan, who claimed he was being "vilified" by the transgender community for allegedly "sensationalizing" Mock's story, he still drew ire from the CNN host, who lashed out at him on Twitter Wednesday morning.
Morgan tweeted a link to Colbert's interview with Mock, saying she has a new "enabler" in the Comedy Central host:
Yep, @janetmock is STILL whining, and has a new enabler in @StephenAtHome > http://t.co/9ZVq52VZPF …

— Piers Morgan (@piersmorgan) February 19, 2014
Colbert introduced his segment with Mock last night by breaking down some of the transgender issues that he said have him seriously "confused," from Facebook adding 50 new gender options to the campaign to get transgender model Carmen Carrera on the Victoria's Secret runway. Eventually, he made his way to Mock's story, taking Morgan's side of the conflict, albeit in character.
When Colbert showed the tweet below that Mock posted after her first interview with Morgan, he noted that it's the "same message Piers gets every night from CNN president Jeff Zucker."
"Was a boy until 18." @PiersMorganLive get it the f*k together. #redefiningrealness

— Janet Mock (@janetmock) February 5, 2014
"You transgendered people don't understand what it's like to be ridiculed and abused!" Colbert said in defense of Morgan. "I mean, they said mean things about him on Twitter. And what's Piers Morgan supposed to do, not spend 12 hours reading about himself?"
Watch video below, via Comedy Central:
After a break, Colbert returned with Mock sitting beside him and the two tried to hash out exactly what happened over on CNN two weeks ago. The part of the interview that irked Morgan the most appeared to be the part in which Mock talked about how she prefers to call people "they" or "it" in order to avoid gendered pronouns.
RIDICULOUS: Go to 5ms15s on this clip to hear @janetmock say you shouldn't ever call a baby 'boy' or 'girl' > http://t.co/9ZVq52VZPF … …

— Piers Morgan (@piersmorgan) February 19, 2014
According to @janetmock we should refer to all babies as either 'it' as @StephenAtHome suggests or 'they' 'my child' or 'my kid'.

— Piers Morgan (@piersmorgan) February 19, 2014
If we can't automatically assign gender to babies @janetmock then presumably we can't assign them names either?

— Piers Morgan (@piersmorgan) February 19, 2014
Finally, Morgan said he thought it was "shame" that Colbert bought into Mock's "'victim' BS," noting, "He's a smart guy, better than that." Or perhaps, he was just delighting in this media narrative that fits perfectly into his character's anti-PC wheelhouse. By not brushing aside the "confusing" aspects of her story, Colbert the character was ultimately able to conduct a more enlightening interview with Mock than Morgan could in either of his two attempts.
Shame that @StephenAtHome bought into @janetmock 's 'victim' BS last night. He's a smart guy, better than that.

— Piers Morgan (@piersmorgan) February 19, 2014
Watch video below, via Comedy Central:
[photo via screengrab]
— —
>> Follow Matt Wilstein (@TheMattWilstein) on Twitter
Have a tip we should know? tips@mediaite.com