Prosecutor On George Zimmerman And Trayvon Martin: 'One Of Them Is Dead And One Of Them Is A Liar'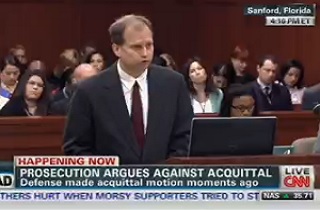 If a bumper sticker could win a criminal trial, George Zimmerman would be ordering a poster of Rita Hayworth right about now. While arguing against the defense's somewhat pro forma motion for acquittal, Assistant State Attorney Richard Mantei delivered a tagline worthy of Don Draper. After Mantei detailed some of the inconsistencies in George Zimmerman's account of his encounter with the late Trayvon Martin, he summed them up by arguing "There are two people involved here. One of them is dead, and one of them is a liar."
Bumper stickers don't win court cases, of course, but Mantei's point underscores the gravity of this jury's task. Every statement that George Zimmerman makes benefits from the fact that he killed the only other witness to the entire incident.
After powerful testimony by slain teenager Trayvon Martin's mother, Sybrina Fulton, and Trayvon's brother, Jahvaris Fulton, the prosecutors in the George Zimmerman murder trial wound up their case with Associate Medical Examiner Shiping Bao, who faced stiff cross-examination from the defense regarding his manner pf preparation for the trial. Once the prosecution had rested its case, Zimmerman defense attorney Mark O'Mara delivered a lengthy motion for acquittal, a formality that is almost always attempted, and almost never successful. This case was to be no exception.
During his rebuttal of the defense motion, Mantei covered, among other things, the inconsistencies in George Zimmerman's account of the killing. "The inconsistencies in the defendant's own statements are hardly minor," he said. "I think, viewed in favor of the state, which the court is required to do, and construed in the light most favorable to the state, they're evidence of somebody who can't figure out which lie he's already told, so he tells a new one."
"'He jumped out of the bushes. No, he didn't jump out of the bushes, he was right there where you are standing,' in the video walk through," Mantei continued, derisively paraphrasing Zimmerman. "'No, he's not right there where you are standing, he actually, after I hung up the phone and turned around to walk back to my truck, he was walking toward me.' He says all three of those things. They can't all possibly be true."
Mantei quickkly added "I'll submit probably none of them are true, but the bottom line is he keeps contradicting himself, and not just in some minor fashion. He claims that he knows all of his neighbors, but I don't know yet of a neighbor who testified that they actually knew who he was before the shooting."
As far as that goes, at least one witness, Jenna Lauer, did testify that she knew of Zimmerman prior to the shooting, and had seen him at a neighborhood watch meeting, but did not know him well.
Mantei continued, "And despite the fact that he's been the neighborhood watch chairperson, that he's lived there for years, that he claims to know all his neighbors and goes about parking enforcement, he doesn't know the name of the three streets in his neighborhood? He doesn't know that, as he's doing his video walk-through, over his shoulder is the address that he claims he couldn't see?"
"Those are not minor things," Mantei said. "Those are evidence of someone who is intentionally obfuscating. There are two people involved here. One of them is dead, and one of them is a liar. That is a circumstance that this court ought to consider, and it's a reason that the jury ought to consider."
Mantei went on to cite case law in opposition to the defense motion, which was, in the end, denied.
Here's the video, from CNN:
Have a tip we should know? tips@mediaite.com