Puffy Shirts, Festivus Poles and Cereal: Mets Minor League Team to Host 'Seinfeld Night'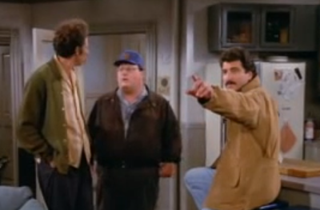 After Jerry Seinfeld and his eponymous TV show graciously began its love affair with the New York Mets 25 years ago (to the point where Keith Hernandez appeared on the show), the Mets are returning the favor by dedicating an entire minor league game to celebrating everything Seinfeld.
On July 5th, the 25th anniversary of the show's first episode, the Brooklyn Cyclones will host a "Seinfeld Night" that somehow jams a bajillion Seinfeld references into the game itself. For instance, players will warm up while wearing puffy shirts, the foul poles will be known as Festivus poles, and mailmen in uniform will throw out the first pitch.
Are there more ways to cram Seinfeld things into a baseball game? Wouldn't this be enough? You thought wrong, friend:
MCU Park will known as Vandelay Industries Park for one night only.
Anyone who has a business card indicating that they are in fact a "Latex Salesman" will also receive a free ticket to the game. If we call the number and it's some apartment on the Upper East Side, you won't qualify for the freebie.
Fans can visit the information table for an "airing of grievances."
"Low-Talking" PA Announcer.
Everyone Runs the Bases Post-game…but anyone named Jerry gets a head start. (Take that Duncan Meyer.)
Game of "Risk" on the Concourse.
Cereal eating contests.
Anyone named George Costanza will be allowed to join our radio broadcast as a color analyst for an inning.
Tickets for this game about nothing go on sale on May 10th.
[h/t The Wrap]
[Image via screencap]
—
>> Follow Tina Nguyen (@Tina_Nguyen) on Twitter
Have a tip we should know? tips@mediaite.com