Ralph Nader Rails Against 'Two-Party Dictatorship' In Obama Primary Chat With Lawrence O'Donnell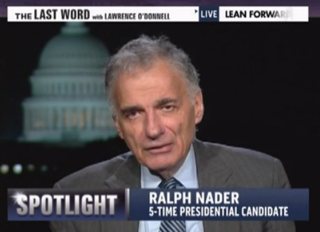 Perennial Green Party candidate/professional election spoiler Ralph Nader is starting to get his voice back just in time for the 2012 elections, and while he has been clear that he isn't running this time around, he is looking for Democrats to give President Obama a primary challenge. On The Last Word tonight, Nader railed against "your corporate masters" and the "two-party dictatorship" to Lawrence O'Donnell, who managed to only get about one question in: why do people think of Nader as a tool with which Republicans keep getting reelected?
The question came from a Twitter user, as O'Donnell asked for questions and feedback with his account. O'Donnell had one question from himself– "Why aren't you running yourself?"– while led Nader down a long-winded explanation about how a "two-party dictatorship" held a grip on America, and that he felt compelled to fight the "crazed plutocratic Republicans and their juvenile, monetized minds" that seemed to be getting the better of President Obama. "The liberal intelligensia has to introspect more," he suggested.
As for his role as spoiler, Nader continued his previous line of attack– that Americans had "indentured statuses to corporatism," that there were very important issues such as climate change and economic inequality that were being swept under the rug in his eyes thanks to the fact that the left had no debate and no contest this time around. That said, he did conclude his appearance with a plea for people to read the letter he wrote demanding a Democratic primary, which O'Donnell described as not having anything resembling a wish to see President Obama defeated in 2012, but rather reinforced.
The segment via MSNBC below:
Have a tip we should know? tips@mediaite.com