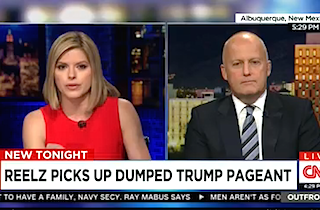 When Univision and NBCUniversal both said they would not air this month's Miss USA pageant due to inflammatory remarks by Donald Trump about Mexican immigrants, the little-known Reelz cable channel came to the event's rescue, agreeing to broadcast it on July 12.
But why is Reelz able to separate the pageant from the presidential candidate who co-owns it when those other major news organizations could not? CEO Stan Hubbard appeared on CNN with Kate Bolduan Thursday evening to explain the decision.
Hubbard said he agrees with everything Trump's critics are saying, calling his comments about Mexican "rapists" "ridiculous." He added, "This will be the 54th year of the Miss USA pageant. And none of those contestants, none of the people in Baton Rouge, none of the little girls at home who aspire to this, want to watch it, none of the people at home who have been watching this on television for decades had anything to do with this. The Miss USA pageant is about as non-political as anything could possibly be."
Confronted with a compilation of Trump's offending quotes, Hubbard said, "I think those kind of comments are completely ridiculous and I think most of America thinks the same way." But that being said, he thought the value of letting the pageant air overwhelmed those concerns.
The CEO stressed that Reelz will likely not be making much money on the deal because of the difficulty the network will have in getting sponsors to air ads during it.
"We knew going in we may have no advertisers, we get it," he said. "We have 11 days to sell it anyway with the holiday summer weekend in between. So that makes it almost impossible. But we do think having the chance to bring this pageant and support those contestants and support that community is a worthwhile endeavor and it is not a political move. It's a television move."
Watch video below, via CNN:
[Photo via screengrab]
— —
>> Follow Matt Wilstein (@TheMattWilstein) on Twitter
Have a tip we should know? tips@mediaite.com