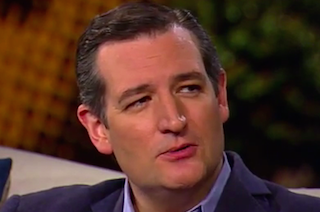 Sen. Ted Cruz (R-TX) really, really, really does not like the "mainstream media." During an appearance on Glenn Beck's show Thursday, the GOP presidential candidate essentially said that there is no such thing as a "nice" reporter.
"You see Republicans, when they are interviewed by left-wing reporters, and they get afraid, they want them to like them," Cruz said. "They are not going to like us. They hate us!"
The candidate recounted the story of a young staffer who described an unnamed reporter as "really, really nice." Cruz said he stopped him and said, "You know what? No, she's not. She wants to destroy you. Nothing would make her happier than to take your life and filet you on the front pages. And don't think for a minute that because she smiles and is friendly to you that it's anything else."
Beck asked in response, "Isn't that pretty cynical?" before admitting that he agrees with him "100%."
"When the sheep are walking among the coyotes, it pays to be cynical," Cruz said. "The job of the mainstream media as they see it, they are partisans. They are protecting Barack Obama and they are ready for Hillary."
Cruz's advice to conservatives when dealing with the media was "Speak the truth, but do it with a smile."
He may sound a bit paranoid, but Cruz has had some unpleasant run-ins with the press over these last weeks and months. Most recently, Fox's Megyn Kelly gave him a tough grilling over his reaction to the Supreme Court's same-sex marriage ruling. Does that make her part of the unfriendly, not-to-be-trusted mainstream media?
Watch video below, via TheBlaze:
[Photo via screengrab]
— —
>> Follow Matt Wilstein (@TheMattWilstein) on Twitter
Have a tip we should know? tips@mediaite.com