Report: How Fox News Managing Editor Bill Sammon Spun The Health Care Debate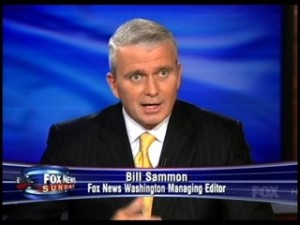 From August of 2009 to March of 2010, the debate over health care reform was effectively story number one on cable news, in part because, it seemed a perfect metaphor for the new Obama administration. As expected, some saw it as an effort to assist the uninsured and powerless, others predictably saw it as government intervention run amok. A new memo from Fox News Managing Editor Bill Sammon leaked by Media Matters (and later reported by The Daily Beast's Howard Kurtz confirms that the news staff was directed to cover the Health Care debate that some are certain to claim neither fair nor balanced.
Kurtz report on the leaked memo is must read, and includes quotes from Mr. Sammon that explains his word choice, but the brewing controversy (if you could call it that) is based on the following report:
On Oct. 27, the day after Senate Democrats introduced a bill with a public insurance option from which states could opt out, Bill Sammon, a Fox News vice president and Washington managing editor, sent the staff a memo. Sammon is a former Washington Times reporter.

"Please use the term 'government-run health insurance,' or, when brevity is a concern, 'government option,' whenever possible," the memo said.

Sammon acknowledged that the phrase "public option" was "firmly ensconced in the nation's lexicon," so when it was necessary to use it, he wrote, add the qualifier "so-called," as in "the so-called public option." And "here's another way to phrase it: 'The public option, which is the government-run plan.'"

The exception was when newsmakers used "public option": "There's not a lot we can do about it, since quotes are of course sacrosanct."
Sammon is a former reporter for the right-of-center Washington Times and replaced the well respected Brit Hume as Managing Editor of Fox News' Washington bureau. He's fairly portrayed in Kurtz' article as someone who has consistently espoused a conservative point-of-view, so the points in his memo should not surprise anyone that Sammon directed a more right of center bent.
The larger issue raised, however, is the question of whether Sammon's direction of referencing the "public option" as the "government option" crossed the sometimes blurry line that separates the opinion programming with the news programming on Fox News. Kurtz lays out a number of examples when news personalities appear to a have changed their words, namely Bret Baier and Jim Angle, who are both based in Sammon's Washington bureau.
Anyone who watched Fox News coverage of the health care debate at this time could see that most of the personalities on the channel were not fans of the White House efforts to pass the bill. At the time, I wrote a post titled "The REAL Health Care Debate: The Obama Administration Vs Fox News" that opened:
Watching a few hours of Fox News these days amounts to a non-stop infomercial opposing the Obama Administration's effort to reform Health Care. While there is always room for a healthy debate on the issues, please don't look to Bill O'Reilly, Sean Hannity or Glenn Beck for a measured discourse – they rarely, if ever, present a constructive solution to the current health care problems (though there is the occasional admission that there is need for reform.) No single entity seems more entrenched in the opposition to the health care reform than Fox News.
It is important to note that the examples set forth above are all right-of-center or "traditionalist" opinion media personalities who were opposed to what they now call "Obamacare." In Kurtz' piece Sammon defends his choice of words claiming that "government option" was more neutral, though that appears to be a simple game of semantics.
To paraphrase a well-worn cliche: semantics, the last vestige of a scoundrel.
Have a tip we should know? tips@mediaite.com