Social Network Sequel? Tyler and Cameron Winklevoss Have Sued Mark Zuckerberg Again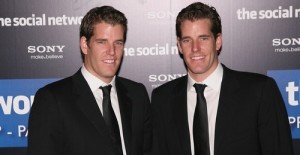 Aaron Sorkin, sharpen your pencil. Tyler and Cameron Winklevoss, the crew-rowing, patrician twins who sued Mark Zuckerberg in 2004 for allegedly stalling their Harvard dating site in order to get his own social network—The Facebook—off the ground, are at it again. Though they received a settlement for $65 million in 2008, the Winklevii now say they should have gotten more money—so they're suing Zuckerberg for a second time.
Interestingly enough, the second suit was filed long before The Social Network made the original Zuckerberg/Winklevoss story famous. Documents leaked to Radar Online show that the twins struck again this summer, after alleging that they had been the victims of securities fraud. Facebook is calling their new suit totally without merit:
"The CU Founders argue that the Settlement Agreement is not binding even though the document they signed declared it was "binding"," their court filing says; CU referring to the Winklevoss' former social networking site ConnectU.

"They acknowledge that Facebook never made any representation as to the value of its shares. Rather, they admit that they calculated the value themselves, based upon a truthful press release from several months earlier.

"Their fraud claim is based on omission: they fault Facebook for not volunteering a more recent — and, they claim, lower — valuation of different Facebook stock. They already had numerous valuations.

"If they and their lawyers really thought the more recent valuations were so important, they had any number of ways to secure the information: (1) through discovery; (2) by demand during the mediation; or (3) by insisting on a warranty as to value in the Settlement Agreement.

"They failed to take any of these steps, but fault Facebook for not volunteering the information.

"They insist that their sworn enemy had some special duty to open its books and volunteer any information that bears on the value of this closely held company."
Regardless of the second suit's outcome, it's good news for Sorkin and David Fincher, director of The Social Network, that news of it leaked this month. After all, awards show season is coming up; now their film is more likely to be at the forefront of Hollywood's collective mind, even though it was released way back on October 1.
[h/t Gawker]
Have a tip we should know? tips@mediaite.com