Roland Martin Blasts Republicans Over Trump KKK Flap: 'You Let Evil in Your House'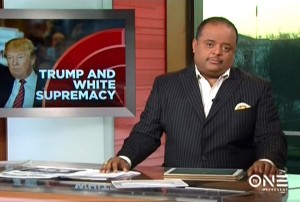 News One Now's Roland Martin was on fire Tuesday, absolutely taking apart Republican presidential frontrunner Donald Trump over his flirtation with David Duke and white supremacists. After delivering one of his hilarious slow-burn reactions to Trump's excuse that he couldn't hear the question he repeated back because of a faulty earpiece, Roland castigated Republicans who are too cowardly to stand up to Trump, or just secretly agree with him.
Toward the end of the segment, though, Smith dropped a hilariously poetic nugget about a political operative who tried, and failed, to create an anti-Trump SuperPAC:
As I said on ABC This Week , and everybody thought I was crazy, you let evil in your house, and evil is now consuming you. What was funny, Alex Castellanos was sitting right there on the panel, I made the point, disagreed, but the New York Times story came out, he was one of the operatives trying to raise the money from the billionaires to create an anti-Donald Trump PAC.
If you know who Alex Castellanos is, you're already splitting your sides laughing, but if you don't, he is the guy who created one of the most, if not the most, infamous racist campaign ad ever, for Jesse Helms. According to the New York Times, Castellanos tried to kill his creature, but couldn't:
Late last fall, the strategists Alex Castellanos and Gail Gitcho, both presidential campaign veterans, reached out to dozens of the party's leading donors, including the casino magnate Sheldon Adelson and the hedge-fund manager Paul Singer, with a plan to create a "super PAC" that would take down Mr. Trump. In a confidential memo, the strategists laid out the mission of a group they called "ProtectUS."

"We want voters to imagine Donald Trump in the Big Chair in the Oval Office, with responsibilities for worldwide confrontation at his fingertips," they wrote in the previously unreported memo. Mr. Castellanos even produced ads portraying Mr. Trump as unfit for the presidency, according to people who saw them and who, along with many of those interviewed, insisted on anonymity to discuss private conversations.

The two strategists, who declined to comment, proposed to attack Mr. Trump in New Hampshire over his business failures and past liberal positions, and emphasized the extreme urgency of their project. A Trump nomination would not only cause Republicans to lose the presidency, they wrote, "but we also lose the Senate, competitive gubernatorial elections and moderate House Republicans."

No major donors committed to the project, and it was abandoned.
That's the sound of the world's saddest, most racist trommbone playing just for Alex Castellanos.
This is an opinion piece. The views expressed in this article are those of just the author.