Romney Responds To Megyn Kelly's Interrogations: 'Megyn, Guess What. I Made A Lot Of Money.'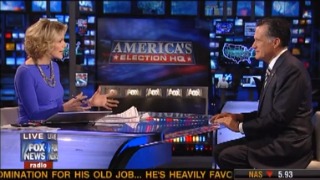 America Live host Megyn Kelly invited GOP presidential hopeful Mitt Romney onto the program Wednesday afternoon to discuss a wide range of topics — from Gingrich to mandates to riches, oh my.
Noting that there is "no doubt" in his mind that the Republican party will band together, Romney shared that, if he's the party's nominee, he believes he'll be able to attract Independent (and Hispanic, and women) voters as well. A recent Bloomberg national poll backs up his assertion, showing that Romney would garner 49 percent of the Independent vote to President Obama's 41 percent.
Romney then pointed to Obama's "terrible" record, drawing particular attention to jobless rates, rising gas prices, and the national debt. "He's got a lot of explaining to do," Romney added.
RELATED: Mitt Romney Responds To Gingrich: 'If I'm A Weak Frontrunner, What Does That Make' Him?
When shown a clip of Newt Gingrich's much-publicized quip about Romney being a "weak frontrunner," the former Massachusetts governor repeated that "if I'm a weak frontrunner, what does that make New Gingrich?" And, stepping away momentarily from previous rhetoric concerning delegates and "math," Romney characterized the race as being "ultimately a question of who can get the support of the Republican party and Independents to be able to win the White House."
Later, when confronted with the criticism that he "isn't wanted" by the "core of the party" in Southern states, Romney advised his critics to look at the results in "some other states that actually are kind of important," like Florida, Michigan, Ohio, Nevada and New Hampshire. "Oh, and by the way," he added, last night he won more delegates than the other candidates. Besides, he continued, he isn't too worried about attracting more conservative voters once he becomes the party's official nominee against Obama.
He later added that rival candidate Rick Santorum is a "nice guy," but ultimately an "economic lightweight" as a candidate and one who isn't as fiscally conservative he is, despite Santorum's recent comments taking umbrage at being characterized as "moderate."
RELATED: Greta Van Susteren Confronts Santorum For Saying Fox News 'Shills' For Mitt Romney
When told of Gingrich's recent comments about staying in the race to make sure Romney doesn't receive the delegate count he needs to seal the nomination, Romney responded that he "sure hoped those comments that you described aren't accurate," and that he also hopes Gingrich is focused on what's best for the country and not, rather, on playing these sort of political games. "Replacing the President has got to be our priority," said Romney, "not stopping one candidate or another. This is a bigger matter than replacing one person with another. It's about saving the soul of America."
Later, while discussing Romney's wealth-related gaffes, an exasperated-sounding Kelly asked him, "Why do you keep doing that?!"
"Megyn, guess what," Romney replied. "I made a lot of money. I've been very successful. I'm not going to apologize for that. I know the DNC tries to push this out and they get it on the mainstream media networks and that's where you guys see it and everybody laughs about it. Because, in this country, we want someone who can help other people become successful."
He also poo-poo'd the idea that he's not doing well with lower-income voters, stressing that he has support from a wide range of Americans, including Tea Partiers and women.
Kelly then showed Romney a clip from a 2008 ABC News debate wherein Romney said he "like(s) mandates." Romney reiterated that he's not for any sort of national program, but is in favor for mandates decided on a state-by-state level.
Watch the interview, via Fox News:
Have a tip we should know? tips@mediaite.com