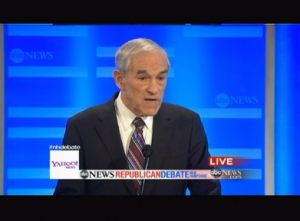 During Saturday night's New Hampshire debate, presidential contender Ron Paul was asked about racist newsletters he had published (but, he has insisted various times, did not write) in the 90s.
When asked to explain "how it was possible that those kind of comments went out under your name without you knowing about them," Paul noted that he has already done so several times, reiterating once again that he did not write the remarks in question. Furthermore, he noted, this wasn't the right question to have asked about the contents of those newsletters:
RELATED: Rep. Ron Paul Gets Irked By Newsletter Questions, Walks Out Of CNN Interview
[T]he inference is obvious that… and you even bring up the word, racial overtones. More importantly, you ought to ask me what my relationship is for racial relationships. And one of my heroes is Martin Luther King because he practiced the libertarian principle of peaceful resistance and peaceful civil disobedience, as did Rosa Parks. But also, I'm the only one up here — and the only one in the Democratic party — that understands true racism in this country is in the judicial system, and it has to do with enforcing the drug laws. Look at the percentages. The percentage of people who use drugs are about the same with blacks and whites. And yet the blacks are arrested way disproportionately.
RELATED: Ron Paul SuperPAC Ad Pushes Back Against Racism Charge
Minorities also suffer more, he added, when it comes to being drafted into war.
Have a listen to his response, via ABC:
Have a tip we should know? tips@mediaite.com