Sanford Commissioner Explains Her Lengthy Speech Refusing Police Chief's Resignation To Megyn Kelly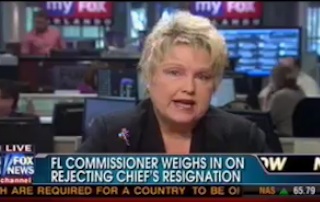 On Wednesday, Sanford, FL Commissioner Patty Mahany defended her passionate defense of Sanford Police Chief Bill Lee on Megyn Kelly's American Live.
Mahany, who voted in the majority to reject Lee's resignation on Monday, gave a lengthy jeremiad during the meeting, attacking those who criticized the city over its handling of the Trayvon Martin case. "I feel this city was invaded," she said. "Somebody's got to stand up for our city, somebody's got to say 'we are not a racist city, we are a great city, and we have a great police department.'"
RELATED: Sanford Police Chief Bill Lee Resigning Following Trayvon Martin Controversy, Reports Say
Mahany explained her reaction to Kelly, who was skeptical of her response:
I do feel like he's been unfairly maligned and I'd like to tell you why. I said the other night Chief Lee was guilty of a bad press conference. Beyond that he's also guilty of making the unpopular but legally correct opinion. Megyn, if you look at our Florida state statutes, in particular, 776.032, if an individual has a qualified defense of self-defense and the investigators thought he did that night, under Florida law they may not arrest him. They actually cannot arrest him, but yet the popular opinion was and I think almost all of us shared it, but this doesn't seem right. He needs to be arrested. The chief and our officers had to follow the letter of the law, the Florida statutes and not the popular opinion. And I think all Americans should be glad that they did that because the same legal rights that had to be afforded to George Zimmerman had to be applied to all of our citizens.
Kelly pointed out that the Governor and Attorney General stepped in and told them it wasn't the right action.
Mahany disputed Kelly's interpretation.
"Under the Florida prevailing law [the special prosecutor] also understood why he wasn't arrested, I want to be clear," she said. "If there's something egregious that happened then absolutely he should be gone," Mahany added. "Until that time, and I think Megyn, you're not going to see that."
Watch Mahany defend her remarks below via Fox News:
Have a tip we should know? tips@mediaite.com