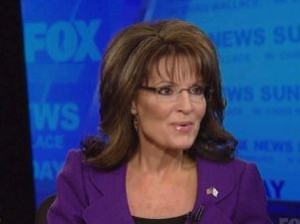 After her fiery speech at CPAC yesterday, Sarah Palin continued to speak out on the Republican presidential race on Fox News Sunday today. She has still not officially endorsed a candidate, and has credited each of the four men for playing to their respective conservative strengths in the campaign. However, while she did have good things to say about Mitt Romney, Palin had some reservations about his conservative credentials, and hoped that he would govern on the side of conservatism as president.
RELATED: Sarah Palin's Facebook: 'Reagan Would Be Ashamed' Of 'Stalin-esque' GOP 'Cannibal' Tactics
Chris Wallace pointed to a comment Palin made at her CPAC speech that the Republicans need to nominate someone who already embodies conservative principles, and it's "too late to teach that." Wallace asked Palin if she fully trusted Romney to be the kind of authentic conservative Republicans want in the White House. She acknowledged that Romney's "idea of conservatism is evolving."
"I base this on a pretty moderate past that he has had, even, in some cases, a liberal past. He agreed with mandating on a state level what his constituents needed to be provided, needed to purchase in the way of health care under Romneycare."
She believes that Republican voters will trust someone who will always come down on the conservative side of an issue when it really matters, but when pushed by Wallace if she thinks Romney is around to that position yet, Palin admitted she cannot say for sure.
"I am not convinced, and I don't think the majority of GOP and independent voters are convinced, and that is why you don't see Romney get over that hump. He's still in the 30 percentile mark when it comes to approval and primary wins and caucus wins. He still hasn't risen above that yet because we are not convinced."
RELATED: O'Reilly Warns Palin: 'It's Too Late' For Republicans To Stop The Negative Attacks
Wallace followed up by asking what Romney can to do convince them. Palin said he needs to do a better job of explaining his solutions for the country if he wants to be seen as the strong alternative to President Obama.
Watch the video below, courtesy of Fox News:
Have a tip we should know? tips@mediaite.com
Josh Feldman - Senior Editor