Rand Paul Scoffs At Obama Drone Speech: Due Process More Than Looking At Flashcards On 'Terror Tuesdays'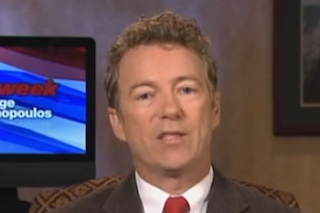 Senator Rand Paul responded on Sunday morning to President Barack Obama's drone speech, which seemed at times a riposte to Paul's filibuster in March on the issue of targeting American citizens with drones. "On Thursday, it sounded as if the President was responding directly to Senator Paul," host Martha Raddatz said, and asked Paul if his concerns had been addressed.
"I was pleased with his words," Paul said. "However, there still is a question in my mind, of what he thinks due process is. Due process to most of us is a court of law, it's a trial by jury, and right now their process is him looking at some flashcards, and a Power Point presentation on Terror Tuesdays in the White House. For a lot of us, that's not really due process."
Raddatz pointed out that Obama outlined what seemed to be new rules for the use of drones.
Paul had no truck with that. "It's not good enough to us that he's not using a power," Paul said, "we want him to assert that he doesn't have the power. Last year, we passed legislation—that I voted against, and many civil libertarians opposed—and that's detaining citizens indefinitely without a trial and sending them to Guantanamo Bay. The President said he won't use that power. But we think a President who really believes in civil liberties would have vetoed the bill."
RELATED: "Of Course Rand Paul's Filibuster Was A Publicity Stunt. That Was Kind Of The Point."
Raddatz asked Paul about a case like Anwar al-Awlaki, an American citizen whom the government killed via a drone strike in September 2011.
Paul attempted to distinguish between a citizen who is fighting as an enemy combatant, and who thus could be killed without a trial, and one who is engaged in treasonous behavior.
"If you're an American fighting with the Taliban," Paul said, "you're going to be shot with no due process. But if you are conspiring to attack America, and you are a traitor, I would try you for treason. If you don't come home for a trial, I would try you in absentia. And then the death penalty has been used repeatedly throughout our history for treason. But a judge looks at evidence. And that's something that separates us from the rest of the world. We adjudicate things by taking it to an independent body who's not politically motivated or elected."
Watch the whole segment here:
—
>> Follow Evan McMurry (@evanmcmurry) on Twitter
Have a tip we should know? tips@mediaite.com