Social Worker Who Dropped Off Josh Powell's Kids Recounts Moments Before Home Exploded: 'Josh, Let Me In!'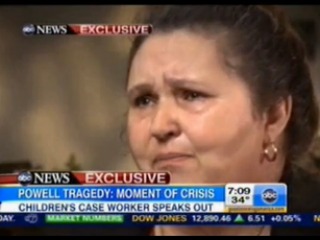 If you've been following the story surrounding Josh Powell, you're likely familiar with the fact that it was a social worker who called 911 before Powell would ultimately take his own life and those of his two young sons — Charlie and Braden — by setting his home on fire.
Elizabeth Griffin-Hall had brought the two boys to Powell's home for a supervised visit. Although never formally named a suspect, Powell had been a person of interest in the disappearance of his wife, Susan, the boys' mother. Adding to the family's strain was the fact that Powell's own father — also a person of interest in the case — had been found to have child pornography, as well as photos of Powell's wife that had been taken without her knowledge.
Once the two little boys had walked into the home, Powell slammed the door in Griffin-Hall's face ("He had a look in his eyes that was just kind of sheepish," she explained). She told Chris Cuomo that she could hear him telling one of his sons that he had a surprise for him, then the other boy yelling. And then, she smelled gas.
"I knocked and I knocked and I rang the doorbell," she recounted to Cuomo, "I started yelling, 'Josh, let me in!'"
She called 911, only to be told that deputies would arrive only after "dealing with life-threatening situations first." "This could be life-threatening!" she yelled, asking to speak to the 911 dispatcher's supervisor.
RELATED: Josh Powell's Brother-In-Law: 'There Is Absolutely Nothing Anybody Could Have Done To Stop Him'
After two 911 calls and ten minutes of questions, Griffin-Hall was knocked back. The house had exploded in flames, Powell and his two sons inside.
When asked how this could have happened, Griffin-Hall did not hesitate:
"Because Josh Powell is really, really evil."
Watch ABC's report, below:
Have a tip we should know? tips@mediaite.com