Soledad O'Brien 'Ambushes' Rep. Allen West With VP Question: 'I Am Always Willing And Ready' To Serve Country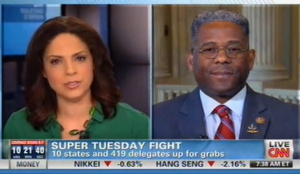 Super Tuesday is finally here, and on Starting Point, CNN's Soledad O'Brien got Florida congressman Allen West's take on the race. The conversation took a less serious turn when O'Brien addressed Sarah Palin's recommendation that West should be the vice presidential candidate — and West laughingly called the question an "ambush."
O'Brien played a Fox News clip during which Palin said, "in this very tumultuous time across our world, someone who has served in our military or at least has intimate knowledge of the way the military works" would be a good vice presidential candidate. She noted that West is such a person.
Responding to the clip, West said, "you know, guys, that was a pretty good set up" — and when O'Brien denied it, he added, "I'm in the military, I can recognize an ambush any day." O'Brien went ahead with her real ambush of sorts and played a clip of West singing.
RELATED: Rep. Allen West Sang 'Pretty Woman' With A Full Band This Weekend
Looking less amused than the CNN crew, West observed, "This is good early morning comic relief for you guys." Indeed, it is!
Finally, toward the end of the segment, he responded to the question at hand and stated:
"As far as the vice president thing, you know, who knows what the future lies because it wasn't too long ago, you know, I was sitting in the desert of Kandahar, Afghanistan, and now I'm here talking with you. But, you know, I am always willing and ready to serve my country in whatever capacity that the American people would desire."
Pretty solid open-ended answer.
Have a look, via CNN:

Have a tip we should know? tips@mediaite.com