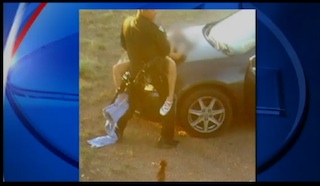 Last week, we brought you the bizarre and somewhat unsanitary news of a New Mexico state trooper who didn't realize a surveillance camera had caught him copulating with a young lady on her vehicle (this is not a euphemism). Today, we bring you the sad news that Bert Lopez has become yet another unemployment statistic.
Lopez is the trooper made famous when surveillance camera footage caught him with a ladyfriend at a ranch– while during the time the video went viral, his identity was hidden, his discharge from duties for the state troopers has made that identity apparent. According to The New Mexican, Lopez was not given specific reason for being fired, though he was suspended for some time thereafter and will receive due process:
Bert Lopez was informed late this week that the Department of Public Safety has fired him, The New Mexican has learned.

It is unclear when that decision was made as agency spokesman Sgt. Tim Johnson has declined to comment until all appeals have been exhausted. "It is an embarrassing situation for the department, but we have to remember the rights of the employee afford him due process we must follow so we won't be commenting further," Johnson said.
Sad news? The original report only showed a cropped surveillance photo, which removed the identity of the one witness to the event that didn't have recording abilities: a chihuahua belonging to the woman in question. How the chihuahua was not allowed to steal the scene and become a viral sensation will forever be one of the great crimes of the internet.
Sadder news? Lopez was quite good at his job– winning 2009 District 1 Officer of the Year for state police, and winning a "Challenge Coin" this summer for "going above and beyond the call of duty." In a state like New Mexico that faces serious border challenges, this is no small feat. What's more, the "embarrassing situation" that got him fired did not occur in the context of his job– it was "not in exchange for anything related to Lopez's position as a law enforcement officer and was not criminal," so, unless it happened on duty, the only relevance of his job to his legal sex activities would be the fact that he was wearing his uniform. It's very possible that a much-needed dedicated law enforcement officer was fired for doing no harm to anyone or impairing his ability to serve.
Below is the original report of Lopez's transgressions via KOB (and below, a recognizable photo of him):

Have a tip we should know? tips@mediaite.com