Stewart And Colbert Contracts Extended Long Enough To Begin Writing Rubio Vs. Clinton Jokes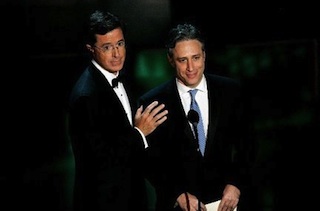 Yesterday, the big news in television was the increasingly heated contract dispute between the actors on Modern Family and 20th Century Fox TV. However, it looks like things are much friendlier further up the dial in cable land as Comedy Central has booked Jon Stewart through 2015 and Stephen Colbert through 2014.
It's weird. You'd think it would be harder the other way around considering Stewart and Colbert have to write new jokes every day and the Modern Family gang gets to save time by just remaking the same episode over and over again.
I kid! I kid! I love Modern Family! I hear, in the new season, Julie Bowen's character is going to be a humorless buzzkill while Sofia Vergara's character is going to talk about how things were different in Colombia! Oh man, how will they get out of that mess within 21 minutes?
Oh, wait. What were we talking about?
From The Los Angeles Times:
"The two shows have become a bright light in late-night ratings. During the current TV season, both shows on the Viacom Inc. network have expanded their audience in the key demographic of viewers age 18 to 49.

That comes in contrast to the performance of broadcast stalwarts 'The Tonight Show with Jay Leno' on NBC, and 'Late Night with David Letterman' on CBS, which have seen younger viewers flee.

'The Daily Show' is up 10% in the 18-to-49 demographic compared with the previous season, while 'The Colbert Report' has grown its audience by 11%"
Well, staffs of both shows, guess you better get started on your jokes for the Rubio and Clinton 2016 election. I'll give you a topic to begin with; I'm pretty sure both campaigns will be slightly dishonest. Now, go!
Have a tip we should know? tips@mediaite.com