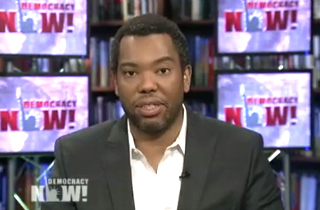 Essayist Ta-Nehisi Coates made waves last week when he built the case for reparations in The Atlantic. The piece has drawn considerable attention from all sides, including both critical dismissal and supportive analysis. On Thursday morning, Coates sat down with Democracy Now's Amy Goodman to further explore his belief that the descendants of U.S. slaves should be given compensation from the government.

Before explaining how reparations would actually look, Coates asserted that the conventional "lunch table mentality" of most people — i.e., "If we could just get black and white people to love each other [and sit with each other], everything would be solved" — is wrong for one big reason: "These terms that we use — black and white — are inventions of racism."
He explained further:
"A better way of describing the relationship between black and white people is one of plunder: The constant stealing, the taking from black people that extends from slavery up through Jim Crow policies. Slavery is obviously the stealing of people's labor, in some cases the outright theft of people's children and the vending of people's children, the taking of the black body for whatever profit you can wring from it. Up through the Jim Crow south where you have a system of debt peonage, sharecropping, which really isn't much different minus the selling of children, you're still exploiting labor and taking as much as you can from it. Up through the civil rights movement… The theft is systemized.
Coates added that he now supports Rep. John Conyer's frequently-proposed bill to study the impact of slavery on the black community and recommend redress through possible monetary compensation. But he cautioned that he can't fully describe how reparations would look because "we'd have to calculate what slavery was, we'd have to calculate what Jim Crow was, we'd have to calculate what we lost in terms of red-lining."
Provocative stuff. Sure to inspire all sorts of responses.
Watch the full interview below, via Democracy Now:
— —
>> Follow Andrew Kirell (@AndrewKirell) on Twitter
Have a tip we should know? tips@mediaite.com