Koppel Denounces 'Overreaction' To Al Qaeda: 'Can You Imagine A Day When We'll Be Without The TSA?'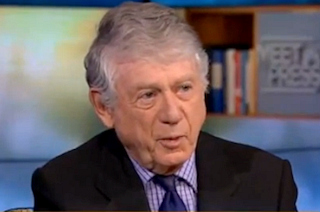 On Meet the Press Sunday morning, Ted Koppel emphatically regretted the United States' overreaction to terrorism, arguing that the U.S. had done al Qaeda's work by shuttering embassies at the slightest provocation.
"With a conference call, al Qaeda has effectively shut down twenty U.S. embassies around North Africa and the Middle East," Koppel said.
"We just had the president of Yemen here for a meeting with President Obama," Koppel continued. "He goes back feeling wonderful about his new relationship with the president. Next thing the president does is says, in effect, 'Sorry we don't trust you Yemenese to protect our embassies.' So in effect we shut down our embassies, we have an emergency evacuation. What does that do to our relationship in the rest of North Africa, what does that do to our relationship in the Middle East, with all of these governments?"
"The terrorists have achieved more with one phone call than we have achieved with all our response," Koppel said.
He also reminded host David Gregory that all the Osama bin Laden-killings in the world won't stop terrorism.
"Terrorism is imply the weapon by which the weak engage the strong," Koppel said. "They cause the strong—in this case us—to overreact. We are the ones who went into Iraq and spent about a trillion and a half dollars doing it, losing 4,500 men and women, god knows how many tens of thousands injured. We are the ones who created a bureaucracy. The TSA has what—57,000 people operating within the TSA? Can you imagine a day when we will ever be without that bureaucracy? All imposed upon ourselves."
Watch the clip below, via NBC News:
—
>> Follow Evan McMurry (@evanmcmurry) on Twitter
Have a tip we should know? tips@mediaite.com