Tense Megyn Kelly Panel Explodes Over Likelihood Eric Holder Will Be Found In Contempt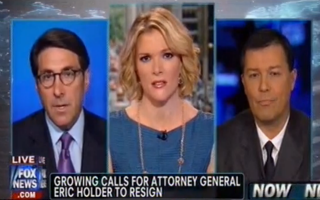 A panel discussion on Fox News Channel's America Live with Megyn Kelly erupted in a tense back and forth over increasing calls by Congressional Republicans to hold Attorney General Eric Holder in contempt of Congress.

RELATED: GOP Senator John Cornyn Tells Eric Holder, To His Face, To Resign
Kelly invited attorney Jay Sekulow and Democratic consultant Julian Epstein on her Fox News program on Wednesday to discuss growing calls among Republicans to cite Holder in contempt.
"I think Sen. [John] Cornyn is right," said Sekulow. "I think it is time for the Attorney General to step aside." Sekulow said that the Obama administration would weigh the political benefits of replacing their attorney general if he becomes a liability prior to the election and would determine Holder's fate based on that calculation.
Kelly asked Epstein if he thought that finding Holder in contempt would be enough of an embarrassment for the Obama administration to request that the Attorney General step down. Epstein said that he believed the charges levied against Holder were purely political.
"I think that there is not a great deal of pressure – at least from the perspective of the White House – on Mr. Holder to resign," said Epstein. "I think most or all Democrats and many independents continue to see these allegations as mostly political and more hat than cattle."
Epstein said that House Majority Leader Rep. John Boehner has been "slow walking" a contempt citation against Holder because they do not have the evidence. Furthermore, Senate Majority Leader Mitch McConnell has not signaled that he opposes charging Holder with contempt.
The conversation spiraled out of control at this stage, when Sekulow adamantly disagreed with Epstein's conclusion.
Kelly asked her panelists where Congressional ranking Democrats were on the defense of Holder. She suggested that their silence implied that they were indifferent about whether the Attorney General should face a contempt citation.
"I don't think Pelosi really believes that this has matured into a really serious political debate at this point," said Epstein.
"Seriously," Kelly asked.
"I think Democrats see this as political," Epstein continued. He said that House committees never win "fishing expeditions."
Sekulow began to raise his voice when he responded that Holder was a "smart guy" who "has to know what's coming."
"Julian's reading way too much into the Speaker's letting the committee do their job," said Sekulow.
Epstein said that, based on his experience, Congressional Republicans know that there is no "there there" and they will "slow walk it to the end of the Congress."
Watch the segment below via Fox News Channel:
Follow Noah Rothman on Twitter
Have a tip we should know? tips@mediaite.com