The Big Winner In the Manti Te'o Girlfriend Hoax? MTV's New Reality Show Catfish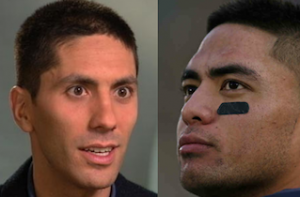 The biggest story to hit the world of sports today is not Oprah Winfrey's exclusive interview with Lance Armstrong, but rather something far more insidious and surprising. Of course, I'm talking about Manti Te'o. Notre Dame's star linebacker has found himself at the center of an elaborate hoax. In case you've been avoiding the internet and TV today, Te'o's girlfriend, Lennay Kekua, who he claimed died of leukemia on the same day as his grandmother, doesn't actually exist.
With both the sports and mainstream media trying to wrap their heads around the complex story today, there are only more questions and few answers this evening. But if there's anyone who can help the rest of us untangle this sordid drama, it's Nev and Ariel Schulman.
Nev Schulman is best known as the subject of the 2010 documentary Catfish, directed by his brother Ariel, in which he fell in love with a woman online only to discover later (SPOILER ALERT!) that she doesn't exist. Late last year, Schulman launched a reality TV series of the same name on MTV.
When Schulman first heard about the Manti Te'o story last night, he must have immediately noticed the connection to his own experience and the subjects of his new show. He first tweeted that he was "working on finding out more" about the story and that he was "in contact with the woman involved." Presumably, he was talking about the real woman whose photo was used by the perpetrator of the hoax. Earlier today, he tweeted at Te'o:
.@mteo_5 I know how you feel. It happened 2 me. I want 2 help tell ur story & prevent this from happening to others in the future. Lets talk

— Nev Schulman (@NevSchulman) January 17, 2013
Since then, Nev and Ariel Schulman have become the de facto experts on the case. Nev appeared in a segment on Good Morning America this morning that turned into a full-on advertisement for the MTV show.
Later in the day, Ariel Schulman appeared on CNN to discuss the story. Wolf Blitzer Blitzer played a clip of Notre Dame Athletic Director Jack Swarbrick discussing both the documentary and TV show by name and directing reporters to watch them as to better understand what happened with Te'o. Ariel responded with amazement that "it's becoming such a used term at this point," before openly plugging his show on-air.
There are only two more episodes in the current season of Catfish, but MTV has already picked it up for a second season. After today's media blitz, they must be feeling pretty good about that decision.
All of this begs the conspiracy theory-laden question, did the Manti Te'o story really just fall in the Schulman's laps, delivering them the publicity of a lifetime? Or is there something more mysterious going on here? If Catfish's season two premiere reveals that Nev Schulman was Manti Te'o girlfriend the whole time, we'll know that this wasn't just accidental synergy.
—
>> Follow Matt Wilstein (@TheMattWilstein) on Twitter
Have a tip we should know? tips@mediaite.com