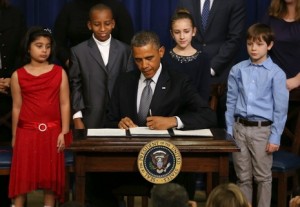 When President Obama announced new executive orders to tackle gun violence yesterday, he was joined by four young children. Many on the right cried foul, with one Republican congressman comparing Obama to Sadaam Hussein using children as human shields. The reaction was, to put it mildly, a bit overblown, but it does raise a very serious question: should children ever be used to promote national policy or advance a political agenda?
RELATED: Chris Christie Slams 'Reprehensible' NRA For 'Dragging People's Children' Into Gun Control Debate
To be honest, I didn't give too much thought to the idea that the Obama administration was using children as political props until I came across videos released today by the White House featuring kids reading their letters to the president on gun control.
Every time I attend a political event or rally, I always see someone in the crowd flanked by their children. Whether it's a young boy with an "Obama 2012" shirt or a baby wearing a "Choose Life" button, I've always felt a bit queasy about adults (parents or otherwise) using children to help promote some political cause. There is no such thing as a Democratic baby or a Republican baby, and parents should encourage their children to think independently as opposed to drilling their own ideologies into their heads.
This is why I've mostly viewed the inclusion of children in political debates, no matter how good the intentions of the adults, a bad thing. There are bright young kids out there, but very few children understand the nuances of many important issues. And when I see the kids in Obama's videos saying what they want him to do about guns, I can see that their hearts are in the right place, but their goals are mostly idealistic, and the White House knows this.
It's using children in what amounts to political commercials. (For the sake of perspective, Obama's use of children isn't nearly as staggeringly bad as the NRA's. The NRA's ad bringing up the president's daughters clearly went too far, and this whole notion of "it's not fair they get security" is a little silly since the president's family gets Secret Service protection.)
We shouldn't fault the kids for any of this. They wrote letters to the president and I'm sure they wanted to share them with the world. But as CNN contributor Will Cain put it earlier today, the whole thing just feels too "stomach-churning" and appealing to emotion as opposed to the intellectual argument of the gun debate. Children are perfectly capable of developing their own opinions and speaking their minds independently of parents and authority figures, and of course there are times when bringing children into a political debate is warranted. When you talk about education policy, for example, you need to include young children in the conversation, since they're the ones who are going to benefit under whatever reforms get implemented.
But all too often what children have to say is co-opted by people in positions of power in order to embolden the emotional core of their argument, and we should at least all be a little wary of playing that card in a national debate.
[Image via]
—–
Follow Josh Feldman on Twitter: @feldmaniac
Have a tip we should know? tips@mediaite.com
Josh Feldman - Senior Editor