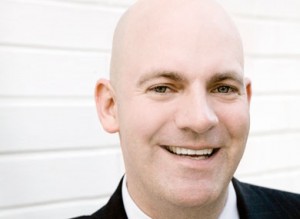 On paper, they seem like a perfect match.
MSNBC's Rachel Maddow has been one of television's most vocal critics of Don't Ask, Don't Tell and has featured almost every major figure in the battle to repeal the law. R. Clarke Cooper is a captain in the Army Reserves, the head of a national gay rights organization, and an outspoken advocate for repealing DADT whose organization just won the biggest legal battle so far in challenging the rule.
Despite the obvious match, Cooper–head of the gay Log Cabin Republicans–can't get booked on Maddow's show even though she says she's desperate to get Republicans on her show.
"I'm a little dumbfounded, quite honestly, by why she hasn't had us on," Cooper told Mediaite, adding that his press people have been in regular contact with MSNBC and Maddow's bookers.
Far from being an axe-grinder, Cooper's beef with Maddow's failure to book him comes from the obvious news connection that it was the Log Cabin Republicans who brought  the lawsuit that lead to a federal judge in California finding last week that DADT violates the Constitution.
When asked about the failure to book Cooper, an MSNBC spokesperson told Mediaite that the network is "approached by many people who wish to appear on The Rachel Maddow Show every day, and there's no way to accommodate every person who is eager to appear on the show."
Cooper has talked DADT with other MSNBC hosts and has also talked to Fox and CNN. Since taking over the group in May, he's talked about the military rule banning gay servicemembers with National Public Radio, the BBC, and on conservative talk radio.
"I can get on conservative talk radio and it has been very good at getting us on the air," Cooper said.  "I thought we'd be a natural for the [Rachel Maddow's] show, but nothing."
In addition to being the head of the Log Cabin Republicans, he also has a compelling story.  Despite being an activist against DADT, he is a combat veteran from the Iraq campaign and remains a captain in the Army Reserves.  He refuses to appear in uniform before the media because it violates the Uniform Code of Military Justice.  He was a political appointee during the entire George W. Bush administration where he served as a diplomat including a posting as an alternative representative to United Nations Security Council. And he was openly gay the entire time.
The media overlooking the Log Cabin Republicans' lawsuit over DADT is nothing new. Judge Virginia A. Phillips, who handled the case, told the New York Times that "[d]uring the course of the case, there wasn't a lot of attention paid to it." Karen Ocamb, a longtime writer for the gay and lesbian press in Los Angeles who covered the trial said the court was expecting huge crowds of journalists and activists, but "the overflow room sat air conditioned-cold and empty."
The disconnect with Maddow is surprising since she has made media celebrities out of other activists, who are a constant presence on her show.  From Dan Choi to new DADT media sensation Katie Miller to Maddow chum Victor Fehrenbach, Maddow has been instrumental in telling the DADT story with gay and lesbian servicemembers who are working against DADT.
Cooper acknowledges that LCR went off the media radar after the 2008 elections created a leadership gap for the organization.  The gay Republican group has also been overshadowed by disaffected gay Republicans who created GOProud.  But the media was able to find him when they wanted to talk about Ken Mehlman's coming out and, well, LCR  did sponsor the lawsuit that found DADT unconstitutional.
So why can't the captain in the Army Reserves who runs a gay rights organization and lobbies Republicans in Congress get any love from Maddow?  Is it because he's a Republican?  Is it because he isn't allied with progressive organizations?
Have a tip we should know? tips@mediaite.com