The Five: We're Only Calling Crimes Race-Based Because Obama and Sharpton Did it First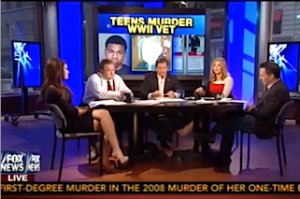 Monday afternoon, The Five used the beating death of 88-year-old World War II veteran Delbert Belton from Spokane, Washington to kick off a discussion about what makes something a "race crime." After arresting an African-American teen boy for the murder, the police chief told the press that "the motive for this attack was robbery. Race was not a factor." But is that how the media will treat it?
Eric Bolling said it was "fantastic" that the police chief said the case was not about race. "Then let's not make it about race," Bolling said. "Let's not make the kid shot in Oklahoma about race either," he added, referring to the murder of Chris Lane that has been consistently debated within the context of race, including on The Five, since it occurred last week. "But also, let's not make the Trayvon Martin case about race either," Bolling said, accusing President Obama, Al Sharpton and Attorney General Eric Holder for doing that first.
"They're pointing the finger at us on the right saying, 'you're talking about this in the context of Trayvon Martin," Bolling said, summing up his point. "We're only doing it because President Obama clearly put a race spin on something that had nothing to do with race."
"For good reason," Bob Beckel said, arguing that George Zimmerman had identified seven people to the police before shooting Martin, all of them black teenagers. The rest of the hosts appeared to have trouble with the idea that a Hispanic could be "racist" towards African-Americans. He got a particular harsh backlash from his co-hosts when he said, "If Zimmerman had [met] a white kid, that wouldn't have happened."
Greg Gutfeld brought things back to the role of the media, saying, "It's not about race until you put it into the context of the media coverage, and political interest in Trayvon Martin, whether you believe it is race or not. The amount of it was so large that it begged for a balance." That may be why we're seeing so much discussion of black-on-white crime in conservative media over the last few weeks. "The reason why certain networks are calling the death of the Australian [Chris Lane] a 'thrill kill,'" Gutfeld added, with a not-so-subtle dig at CNN and MSNBC, "is to absolve them of balancing out the coverage."
Watch video below, via Fox News:
[photo via screengrab]
—
>> Follow Matt Wilstein (@TheMattWilstein) on Twitter
Have a tip we should know? tips@mediaite.com