This Exists: Come On Down To Waco, Texas' Newest Restaurant, Fat Ho Burgers (Seriously)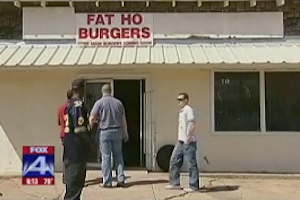 There's a new restaurant opening up in Waco, Texas and its name is causing a bit of a stir. That name? Fat Ho Burgers. Named after women of loose morals who are heavy and also burgers, the restaurant is getting a lot of attention. The burger joint's getting headlines, the folks of the Gospel Café, a nearby "volunteer-run religious café and bookstore" aren't thrilled, and no one's asking the question we want to know; How are the burgers?
Prefacing Dallas-Fort Worth Fox 4's story on the restaurant, anchor Heather Hays described the name by saying "when you hear it, you're either offended or you think it's genius." I'm pretty sure there's some room for a middle ground here but whatever. So, what does the woman in charge of Fat Ho Burgers have to say?
"'It's not calling people a ho. It's just like they say, "Oooh that ho is big," or, "That ho is tight!"' said Lakita Evans, the restaurant's owner.

The 23-year-old worked her way through college to open her burger joint and said the name is mostly a bit of humor in an otherwise serious world.

'Look what's going on in Japan. It's like clear this world is not gonna get any better. Why cry and be depressed? The economy is bad. Somebody gotta keep a sense of humor around here,' Evans said."
You know, I was about to write something snarky about the silliness of connecting the tragedies in Japan to an establishment called "Fat Ho Burgers," but then I realized that Evans makes a lot of sense. Just take a look at this similar story in New York where a comedy club had to take their awning down that advertised their bar as being called the "Hot Chick's Room" (named after a famous sketch by the club's founders). The people in the surrounding neighborhood repeatedly explained that they got that the name was a joke but that it was still offensive. Clearly these people didn't get the joke. Like Evans said, we've gotta keep a sense of humor.
So, kudos to you, Fat Ho Burgers! Next time I'm in Waco, I'll try to stop by. I probably wouldn't go there on a first date though.
Check out the news report from Fox 4 below:
Have a tip we should know? tips@mediaite.com