'This Story Has Elvis, Ricin, & Rice' Piers Morgan Conducts 'Bizarre' Interview With Freed Ricin Suspect
'Elvis, Ricin, & Rice': Piers Morgan Conducts 'Bizarre' Interview With Freed Ricin Suspect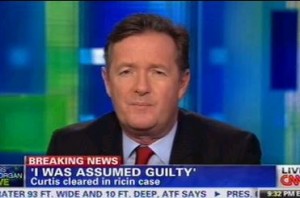 If you thought the story of the man arrested on charges of sending ricin envelopes to President Obama and a U.S. senator was already bizarre, it's about to get even weirder. Paul Kevin Curtis was released from prison today, and tonight spoke to Piers Morgan on CNN about being falsely accused and held for days by the FBI, and shared his thoughts on who he thinks may have set him up. It's a story that involves stalking his MySpace account, local politics, and, of course, body parts in refrigerators.
RELATED: Ricin-Laced Letter Suspect Speaks Out After Charges Against Him Are Dropped: 'I Thought They Said Rice'
Curtis described to Morgan what it was like being held for four days and having federal authorities yelling at him that he knew what he did, following his insistent denials. He remarked that he was not treated as innocent until proven guilty, wondering how many other innocent people are detained on "circumstantial evidence."
Morgan asked Curtis about who may have possibly set him up. Curtis first heaped praise upon his lawyer, saying that "in the jungle of the law in court, you have monkeys, you have kangaroos, and you have lions, and she was the lion queen." He then explained who he thinks may have set him up, referencing his political activism and how he has a reputation for being an "up-in-your-face guy."
Curtis described a years-long feud he's had with the man he believes to be setting him up. He explained that people always told him that this guy (Curtis never identified the man in question) really hated him, and he couldn't come up with a reason why he was being targeted. He asked, "Was it music-related? Is it martial arts?"
He shared a story of how a local waitress came to his house and told him that she waited on a man who was asking questions about him, and that he knew the waitress and Curtis were connected on MySpace. Curtis said he once met the man, who wanted to interview him for a newspaper about how he found body parts in a refrigerator. When confronted about this, the man said he couldn't touch the story because he was running for "district 16 in the Republican party."
Morgan accurately summed up the story as "bizarre" and concluded by asking Curtis if he expects the man to be interviewed. Curtis said the other man already is, and expressed relief that he's finally out of jail.
Watch the video below, courtesy of CNN:
—–
Follow Josh Feldman on Twitter: @feldmaniac
Have a tip we should know? tips@mediaite.com
Josh Feldman - Senior Editor