Time To Get Rid Of The Iowa Caucuses? Hardball Panel Argues State Is 'Unrepresentative'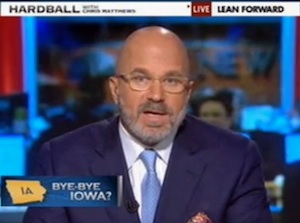 On Tuesday's Hardball, radio talk show host Michael Smerconish questioned whether it was time for the Iowa caucuses to walk through that mystic corn field and join Kevin Costner's father in the sky.
RELATED: Rick Perry Declares Himself 'The Tim Tebow Of The Iowa Caucuses'
"Does the state of Iowa really deserve to hold the first presidential nominating contest?" Smerconish asked, referencing an article from University of Iowa's Stephen Bloom in The Atlantic. "A lot of people have been saying lately that it doesn't, including a University of Iowa professor who's lived in the state for 20 years and writes, 'In a perfect world, no way would Iowa ever be considered representative of America or even a small part of it. There are few minorities, no sizable cities, and the state is about to lose one of its five seats in the US House because its population is shifting. Still, thanks to a host of nonsensical political precedents, whoever wins the Iowa caucuses in January will very likely have a 50% chance of being elected president 11 months later. Go figure.' Is it time for another state to be first in the nation?"
TheGrio's Joy-Ann Reid criticized Iowa as "demographically unrepresentative." "I think in a lot of ways, Iowa is an anachronism," Reid said.
RealClearPolitics's Erin McPike disagreed with the other panelists, thinking rural America was being given a voice with the Iowa caucuses being the first to vote in the nation. "This is the one time 'fly-over country' gets a say," McPike argued.
Smerconish advocated for "regional primaries" as opposed to individual states.
The host later asked the panelists about if a Ron Paul win in the state would be the final straw for its bellwether status.
"If Iowa gets discredited because Ron Paul wins, it won't be because MSNBC says it's discredited, it will because of opinion leaders on the right…if he wins, opinion leaders on the right will say, 'eh Iowa didn't matter," said Reid.
Watch the Hardball panel debate whether Iowa should still hold the first contests in the nomination process via MSNBC:

Have a tip we should know? tips@mediaite.com