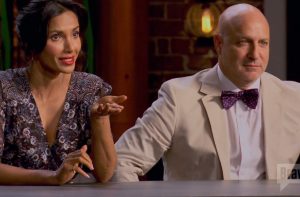 We're back in Charleston for week two of Top Chef. Fresh off Gerald's elimination and still on Boone Hall Plantation, we're taken outside to meet guest chef Frank Lee, the "godfather of low country cuisine." Jim recognizes the smell of Old Bay immediately, and says that he knows what's about to happen. No spoilers, Jim!
Frank presents them with a low country boil, and tells them to "have a good time," which we know is going to last all of seven minutes. This is a competition show.
Frank Lee declares, "to truly understand the local cuisine, you have to dine in the homes of the locals." And with that, it's Elimination Challenge time. For the challenge, the chefs will be split into two teams. Each team will "dine in the home of a local chef, whose family has been in Charleston for generations." The teams will then have to create their own family meals using what they've learned. The teams? Rookies vs. Veterans.
Emily Hahn is incredibly angry that she's been called a Rookie. "I'm starting to get a little bit PO'd," she says, "I am not a rookie chef." She does acknowledge, "I am new to this competition." Pretty sure that's what rookie means.
One of the host chefs is Carrie Morey, the founder and owner of Callie's Hot Little Biscuit. She's hosting the rookies and now Emily's mood is better. She's a fan of Carrie's. The other host chef is BJ Dennis, who is having the veterans over.
The chefs prepare for their family meals, and Jim has decided to make okra. It's an interesting choice because up until today, Jim has never liked okra. Also, Tom Colicchio doesn't like okra. Experimenting when stakes are this high is something I'll never understand. Annie is making ceviche, which also feels like an odd choice.
The Whole Foods trip is an utter disaster. The corn is hard to find, the rookies don't know where their list is, no one knows who is responsible for getting the milk, there are too many eggs, and BJ has spent $120 on pork, which, based on his teammates reactions, is too much money to spend on pork.
Back at the house, the rookies are stressed out, and the veterans are drinking rosé and laughing. Jim is stressed out because his team wants him to make biscuits since he has immunity and this challenge doesn't matter much for him. Jim wishes they had decided all of this in advance.
The rookies are in the kitchen, and the collective stress level seems to have gone down…at first. The veterans arrive shortly after, and the tension grows. Jamie is making vegetables, probably to show he can cook them without burning them. Casey is making collard greens, but is cooking them only lightly, which isn't traditional. John loves the smell of stress in the morning, which is good, because things are getting stressful.
The ovens are a problem pretty much immediately. There are no racks, which means that everything has to be cooked on one level. Also, the oven that John needs to be at 250 degrees is at 500 degrees. John asks Katsuji to turn it back down and says "When I become the voice of reason, we all have to start worrying."
"Hashtag truth," Brooke, who is not Tweeting says.
Jamie has burnt his vegetables…again. But, no matter, it's time to serve, and the rookies are up first. Padma is excited about tomato pie. Everyone is disappointed in the lack of biscuits- Padma calls it a "glaring omission."
Jim's grits are up first, and everyone agrees they're delicious. Sylvia has never made Southern food before, and while her dish is okay, her farro is a bit under-seasoned. Emily's shrimp and cucumbers dish is a hit. BJ's very expensive pork is inconsistently cooked, though the peaches are nice. Annie's tomato tart is an issue- the crust and texture are "off," and the dough is raw. Sylva's cornish hen dish is great. Jamie's vegetable casserole has great flavor, but lacks cohesion. There's just too much going on. Overall, Tom says the meal is pretty good- there were a few misses here and there, but overall, the chefs did well.
Next up, the veterans. They like the look of this meal better than the last one. Shirley's pork and oyster stew is good, though not terribly inventive. John's rice is well-received, including by Tom Colicchio, who reminds us again how much he does not like okra. Brooke's sweet corn biscuits are great. Casey's collard greens go over well. Tom is surprised by the addition of the trout roe. Padma uses the word toothsomeness to describe Sheldon's eggplant dish, which I'm pretty sure is all we need to know (it's good). Katsuji's shrimp stew is excellent. Sam's fried chicken was a bold move, but it's great. The veterans pretty much killed it.
Elimination time. The veterans won the challenge. The winning dishes were cooked by Casey, John, and Sheldon. Casey won the elimination challenge. The losing dishes were BJ, Annie, and Jamie.
Eliminated: Annie.
See you all next week!
[image via screen grab]
Have a tip we should know? [email protected]