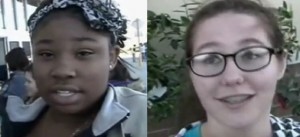 This is the kind of story that makes you proud to be an American. A pair of thieves got more than they bargained for when they snatched a cash box full of about $200 in Girl Scout cookie money in a Texas Wal Mart parking lot on Saturday. Scout Iravia Cotton punched one of the thieves in the face through the passenger window of the getaway car, while fellow scout Rachel Johnson jumped on the getaway car, and was dragged as the thieves sped off (she was treated on the scene for minor injuries).
From The Houston Chronicle:
Around 1:52 p.m., a dark-colored, late-model Toyota Camry pulled up next to the Scouts selling cookies outside the Walmart at Grand Parkway and Bellaire. A passenger got out of the car, stole the cash box and got back into the vehicle, Fort Bend County Sheriff's Office spokesman Bob Haenel said.

Two Scouts chased after the crooks, KTRK-Channel 13 and KHOU-Channel 11 report. The Camry hit one of the 15-year-olds, knocking her onto the pavement, Haenel said. She suffered minor cuts and bruised her knees. Paramedics treated her at the scene.
Iravia Cotton told KHOU, "Me and my friend, (Rachel Johnson), went after the money and then they tried to hit me with the car. I started hitting the boy that was in the passenger seat, so I think he learned his lesson a little bit, and then they dragged my friend Rachel across the street driving off real fast."
One of the best parts of this story was Rachel Johnson's reaction. "I hope your face hurts from when Iravia punched you…jerk," she told the thief, via KHOU's news camera. "I'm serious. No, one of our girls ran up, Bam! Yeah. So I hope your face hurts. I hope it leaves a scar."
As awesome as this story and these girls are, I would be remiss if I didn't urge every girl, boy, man, and woman not to jump onto a moving car in pursuit of criminals. As I'm sure their parents told these girls, money (and even delicious Girl Scout Cookies) can be replaced. Having said that, these girls definitely earned their merit badges in Badass. If there weren't already enough reasons to love the Girl Scouts, here is one more.
CNN's Soledad O'Brien, on this morning's Starting Point, noted that Girl Scout policy says these girls are responsible for the money stolen, but vowed to pitch in, saying "We're going to buy $200 worth of girl scout cookies this morning."
Here's the clip, from CNN:
Have a tip we should know? tips@mediaite.com