Trump Doubles Down: Despite Tape Emerging of His Iraq War Support, 'I'll Find Evidence' I Was Against It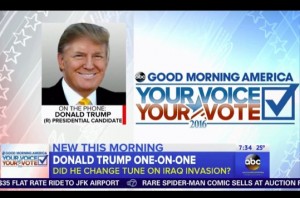 Despite his longstanding argument that he was emphatically against the Iraq War in the early 2000s, current Republican frontrunner Donald Trump seems to have given a very different account of things in a Howard Stern interview from 2002. Buzzfeed's Andrew Kaczynski revealed yesterday that in that interview, Trump admitted "Yeah I guess so," when asked if he supported military invasion in Iraq under the George W. Bush Presidency.
On Friday morning, Trump spoke with Good Morning America's George Stephanopoulos, where he was cornered with the Buzzfeed report for the first time. "You said many times during this campaign that you were against the Iraq war before it began," noted Stephanopoulos, "and no evidence turned up to support that, and yesterday Buzzfeed received this clip from The Howard Stern Show in September 2002 which showed you supporting the invasion."
Stephanopoulos dug in against the real estate mogul: "Now will you stop claiming you're the only one against the Iraq war before it began?" The back-and-forth between the between anchor and Trump reads as follows:
TRUMP: No, that was long before the war began and by the time the war began I was saying and I'm on record as saying that we shouldn't go in…

STEPHANOPOULOS: But you're not on record at all opposing the war before it began. There's simply no evidence of that, sir.

TRUMP: Well, there is evidence and I'll find evidence because I was against the war and you can see the way I said that, that was long before the war started and that was an interview that was the first time I was ever actually asked that question.

STEPHANOPOULOS: You said you were for the invasion.

TRUMP: You could see I was not exactly strongly in favor. That's the first time it was ever asked but that was long before the war started. By the time the war started I was against and in 2003 you have evidence that I was against and I've been against it for years.
Watch the above video from ABC's Good Morning America.
[image via screengrab]
—
J.D. Durkin is the Senior Editor of Mediaite.
Have a tip we should know? [email protected]