Trump Teases 2016 Run On Fox: Nation Is 'Desperate For Leadership, Whether It's Me Or…'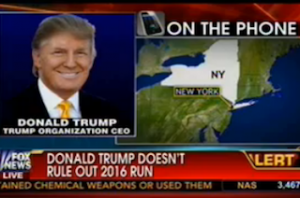 The Donald Trump in 2016 rumor mill has been buzzing this week after the New York Post revealed that "sources" told them The Donald has spent more than $1 million on research for a potential run. And Trump did nothing to quell those rumors when he appeared on Fox News, via phone, with Neil Cavuto today.
Asked right off the bat what his political intentions are, Trump said, "I don't know, the story got out and I guess a lot of people are asking me… People in this country are just desperate for leadership. so whether it's me, or frankly, let it be somebody, but somebody has to come along and straighten out this country or we're in trouble."
"I would be really thrilled if President Obama was a great president and if he did a great job," Trump continued. "I would be thrilled by that, because before I'm a Republican, I can tell you, I'm an American. I want this country to be great again and it's not going to be great again."
Trump would not say what, if anything, his $1 million electoral research team has come up with so far, instead relying on anecdotes about how he helped Mitt Romney during the 2012 GOP primary process and noting the big, enthusiastic crowds he's been drawing (if you don't count all those empty chairs at CPAC). Trump also demurred when it came to New Jersey Governor Chris Christie, who he called a "good guy" and longtime "friend," but would not rule out running against him.
Whether Trump will actually decide to compete for the 2016 Republican presidential nomination, or this is just the beginning of a very long self-publicity campaign, one can only speculate.
Watch video below, via Fox News:
—
>> Follow Matt Wilstein (@TheMattWilstein) on Twitter
Have a tip we should know? [email protected]