Tucker Carlson: 'Few People Have Done More To Divide The Country Than Chris Matthews'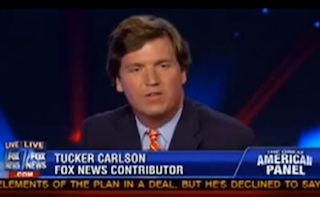 Yesterday, we called the epic debate between Chris Matthews and Rep. Joe Walsh one of "the most exciting and in-your-face political discussions ever recorded" and it's clear we weren't the only ones that enjoyed it. Last night, Sean Hannity brought the clip in front of The Great American Panel who, unsurprisingly, all seemed to feel like Walsh came out on top. What may have been surprising was just how harsh one panel member, Matthews former network-mate Tucker Carlson, was in his description of the MSNBC host.
Carlson was going for the jugular right from the beginning:
"It's excruciating for Chris to listen to other people talk. You can see the kind of pain in his face but, y'know, he's spent the last couple of years just sucking up to this guy, sniffing his throne really in an obsequious and embarrassing way, humiliating himself on behalf of Obama. It must be difficult to watch what's happened to the country."
Ouch! And he wasn't even done yet!
"Well, very few people have done more to divide the country than Chris Matthews, I would say. So it's very hard to hold him up as someone who brings us together because he's very much a divider."
So the country may be completely broke and it doesn't seem like folks in the capital are working together too well to fix it. On the upside, we're getting a wealth of great TV out of the situation! That's got to count for something, right?
Watch the clip from Fox News below:
(h/t Breitbart.tv)
Have a tip we should know? tips@mediaite.com