Tucker Carlson Reported Obama Video In 2007 On MSNBC, Slammed Politicization Of 'Unjustifiable' Crime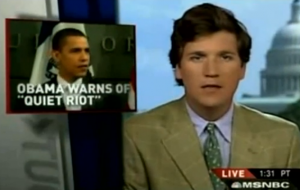 Tonight, the Drudge Report, Sean Hannity and Tucker Carlson seized on an unedited video of a speech President Obama gave in 2007, criticizing it for being "racially charged" — and also criticizing the media for omitting what they deemed the most controversial comments in the reporting at the time of the speech.
Carlson, an MSNBC host at the time, was among those who reported on the video in 2007.
"The senator waded into the controversial waters of race," Carlson said during the segment. "It is not the first time" Obama has sounded such an alarm, he added — then asking, "But will this kind of rhetoric help or hurt his chances to become president?"
Carlson then turned to his panelists, Hillary Rosen and Michael Crowley, to discuss. In the speech, Obama's reference to "quiet riots" was an attempt to give political meaning to "totally unacceptable, never justifiable behavior. And I think that's pretty outrageous."
Rosen disagreed, giving him credit for tackling the topic. The remainder of the segment largely consisted of the Rosen and Carlson sparring over Carlson's assertion. Not unlike cable news discussions we see today, fancy that.
In discussing the video today on Hannity's show, Carlson recalled covering the story himself. With those who said the story's already been covered, Carlson disagreed. The media reported on the prepared remarks, he said — not on the ad libs, which contain the "divisive" remarks.
"This hasn't been reported," he said. "I know because I reported it the first time."
Carlson's 2007 report below:

Have a tip we should know? tips@mediaite.com