Twitter Goes Nuts Over Megyn Kelly's Nascent Feud With… Jane Fonda: 'My God'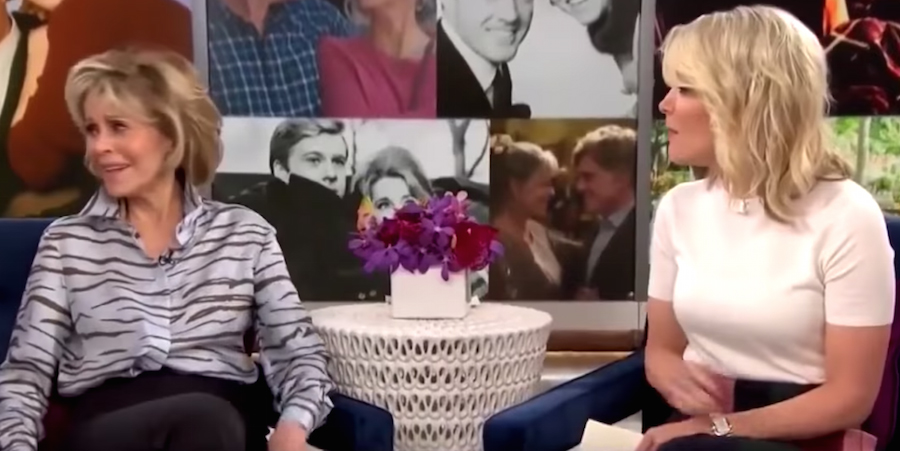 In case you need a little break from government shutdown madness, it seems as though Megyn Kelly and Jane Fonda are feuding. It all started a few months back, when Kelly brought up Fonda's plastic surgery during what was supposed to be a puff piece interview on TODAY. Fonda did not take kindly to that line of questioning, telling Variety that it showed "she is not a good interviewer."
This morning Kelly struck back, devoting an entire segment of her morning show to denigrate Fonda, even alluding to her one-time nickname of "Hanoi Jane," due to her anti-war actions during the lengthy conflict in Vietnam more than 40 years ago.
"This is a woman whose name is synonymous with outrage. Look at her treatment of military during the Vietnam War. Many of our veterans still call her 'Hanoi Jane,'" Kelly said. "By the way, she still says she is not proud of America."
Folks on Twitter have taken note of the burgeoning feud, many reacting with confusion, others taking note of many of Kelly's controversial past statements, including that one time she pronounced that Santa Claus, who does not exist, is white:
2. Just got this message from a former Fox News colleague of Megyn's: "Just shows that FNC never made her do anything…this is who she is. Also, if Jane Fonda is so horrible and offensive and an America hater why did Megyn have her on?"

— Yashar Ali ? (@yashar) January 22, 2018
As of this writing, neither Fonda or Kelly has responded to this latest salvo.
[image via screenshot]
—
Follow Lawrence Bonk (@sidescrollers) on Twitter
Have a tip we should know? tips@mediaite.com