Van Jones Breaks Down Emotionally While Describing What Michelle Obama Means To Him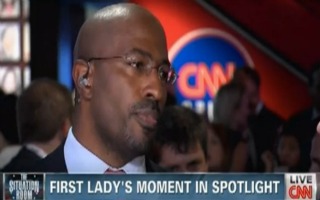 Former White House advisor Van Jones appeared on CNN with host Pete Dominick discussing first lady Michelle Obama's upcoming address to the Democratic National Convention. While describing his feelings about the first lady, Jones voice began to crack and his emotions got the better of him.

"I'm a sycophant," said Dominick describing his feelings for the first lady. "I love this woman. She has inspired me. She has inspired my wife. But, more than anything, I feel like she's inspired, certainly, young black girls in America. And, she's also given America a different image of black woman that might have been played out in the media or even in television."
"I'm sitting here getting emotional," said Jones, his voice beginning to crack. "A lot of people are going to get misty."
"She looks like my sister," Jones concluded. "I have a sister who is the same height, the same spirit, the same complexion."
"It's almost impossible to describe what it feels like to have somebody like her stand up and speaking for America," said Jones, now almost overcome with emotion. "Because, there is this image of what beauty is supposed to be – of who's supposed to be up there. And she comes out there with such dignity, and with such poise, and with such class."
Jones went on to say that dark-skinned black women, like Jones' sister and Michelle Obama, were never considered traditionally beautiful and the first lady has upended that stereotype.
Watch the clip below via CNN:
> >Follow Noah Rothman (@Noah_C_Rothman) on Twitter
Have a tip we should know? tips@mediaite.com