Van Jones Hammers Ted Cruz on Crossfire: Are You Sorry for Leading Your Party 'Into a Ditch'?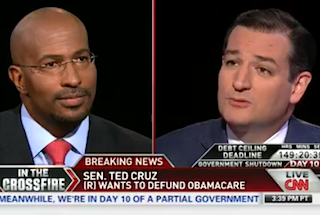 Just as Republican leaders were exiting their meeting with President Obama at the White House Thursday, Sen. Ted Cruz (R-TX) was entering CNN's Crossfire, where he had to contend with Van Jones and Sen. Sheldon Whitehouse (D-RI), without too much help from Newt Gingrich. Now that House Republicans are prepared to move forward with a short-term debt deal that doesn't touch the Affordable Care Act, Jones asked Cruz, "Do you feel like you owe your party an apology?"
Jones noted that the Republican Party has become incredibly unpopular under Cruz's "leadership," saying that since the Texas senator entered office in January he's become "the most prominent Republican in this town." After stressing that "we're all friends here," Jones asked Cruz:
"Do you feel like you owe your party an apology? Listen, you have people who believed in you, they believed that you were somehow going to be able to defund Obamacare, they believed the strategy of shutdown might have a chance. They followed you into a ditch. And now, there's obviously there's no chance Obamacare will be defunded and we're on the brink of a horrific default. Do you think that in the reflection of your own heart, you might say, 'You know what? I'm a new kid here, I think I owe you an apology'?"
Cruz laughed at first before getting more serious and asking some questions of his own. "I know you desperately want to change the topic from Obamacare," he said. "Democrats in this town do not want to discuss Obamacare. Why? Because it isn't working." He then turned to focus on negative polling numbers for President Obama and Democrats, crediting House Republicans who are "listening to the millions of Americans who are losing their jobs, who are being pushed into part-time work, who are facing skyrocketing health care."
When Sen. Whitehouse got a chance to chime in, he called the "notion that Obamacare is a failure" a "product of right-wing histrionics." He told stories about how well he believes the exchanges are going so far in his home state.
"The Republican Party decided that Obamacare was going to be a failure early on, before Obamacare was even decided," Whitehouse said. "It was a political choice to pull all support for anything this president wanted to do. Now they have to live with it, so they have to maintain the story line. But I have to tell you Senator Cruz, I don't see it at home, I don't believe it."
Watch video below, via CNN:
[photo via screengrab]
— —
>> Follow Matt Wilstein (@TheMattWilstein) on Twitter
Have a tip we should know? tips@mediaite.com