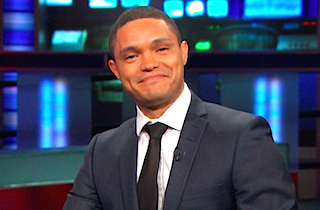 As Jon Stewart's Daily Show exit and replacement host Trevor Noah's debut draw closer, the president of Viacom Music and Entertainment Group, which oversees Comedy Central, is speaking out about the debacle that welcomed the transition announcement.
It was just one day after Comedy Central's official announcement that the internet started to collectively lose its mind over Noah's history of making Jewish and fat jokes on Twitter. In an interview with CNN's Bill Weir at PromaxBDA's annual conference this week, Doug Herzog reportedly admitted, "We did not vet his Twitter feed before we hired him."
"I think they'll be teaching that someday, in the college courses they'll teach on Twitter," Herzog continued. "I was sitting there alone, not in the office…. I'm just sitting back and watching my Twitter explode. It was unpleasant. But that's a very particular dark place."
"But the truth is even had we looked at it I don't know what we would have done differently," the executive added. "What I really learned is that it didn't matter who was going to replace Jon Stewart, we underestimated what the public reaction would be to anyone who was going to be sitting in that seat. The way people have come to view The Daily Show is a very elevated place."
Comedy Central immediately decided to stand by Noah, releasing a statement that read, in part, "to judge him or his comedy based on a handful of jokes is unfair." When Stewart returned from hiatus the following week he implored his audience to give Noah the opportunity to earn their "trust and respect" through his work on the show.
"The Daily Show demands somebody who is fun, insightful, smart, understands world events and the news and can speak in millennials' very distinctive voice. Not everyone can bring all that together," Herzog said at the conference. "Ultimately, we think this is the right guy for the job. The list was very short."
[Photo via screengrab]
— —
>> Follow Matt Wilstein (@TheMattWilstein) on Twitter
Have a tip we should know? tips@mediaite.com