Walk Of The Cock: Lawrence O'Donnell Gives Dick Morris Greatest Hits Sendoff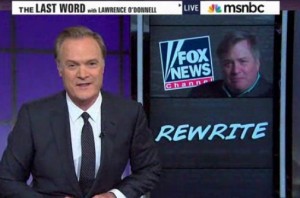 Early Tuesday evening, Fox News confirmed that former Clinton adviser and political pundit Dick Morris has been shuffled off the network's roster of contributors, a bit of news that has led to something of a schadenfreude overload. Case in point: The Last Word host Lawrence O'Donnell, who devoted his "Rewrite" segment to sending Morris off with a merciless greatest hits compilation, but not before introducing the package with a sophomoric anatomical pun, telling his audience that Morris "will surely resurface somewhere, somehow. In the meantime, we'll always have our memories of Dick."
O'Donnell began by noting, "First Sarah Palin, now big Dick Morris. Fox News is rewriting the roster of pundits, and in the process getting rid of the most ridiculous players," but given that Fox News recently picked up CNN castoff Erick Erickson, and Morris has an upcoming hit on CNN's Piers Morgan Tonight, perhaps the bigger news is yet to come: could Sarah Palin be the next big hire for CNN, and is Mary Matalin destined to join Erickson at Fox News? Maybe the New York Yankees can get in on this, and figure out a way to unload A-Rod.
"Dick Morris," O'Donnell continued, "who first achieved fame as an adviser to Bill Clinton, and then desperately clung to fame as an attacker of Bill Clinton and Hillary Clinton, and all Democrats. And he will surely resurface somewhere, somehow. In the meantime, we'll always have our memories of Dick."
About halfway through O'Donnell's Morris Mixtape (or DicksTape?), you might start to feel a little bit sorry for Dick Morris, but then, the clip in which Morris actually makes Sean Hannity say, "Oh, come on!" makes you spit your drink. Fox News has, apparently, figured out that the only thing worse than not knowing dick is when your Dick doesn't even know dick. On to CNN?
Here's the clip, from MSNBC's The Last Word:
Follow Tommy Christopher (@TommyXtopher) on Twitter.
Have a tip we should know? tips@mediaite.com