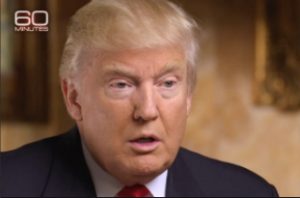 Donald Trump gave his first interview as President-Elect tonight, where he addressed a wide variety of subjects related to his presidential ambitions, and the aftermath of his campaign.
On 60 Minutes, Lesley Stahl talked with Trump about everything from Hillary Clinton's concession call, to his plan for deporting illegal immigrants in this country. One of the first things that came up was that came up was Trump's hard-fought battle with Clinton, and Stahl asked him about whether he had any regrets about the harsh things he had to say about her.
On the subject of his meeting with President Obama, Stahl asked Trump about whether there was any awkwardness between the two of them, and whether Trump viewed his election as a repudiation of Obama's legacy. Trump said that he felt no tension between Obama and himself, and that his election simply means that the country wants to see him ensure that politicians work for the people once again.
Stahl also asked Trump about whether he would act differently as president from the firebrand that he was when he was campaigning. Trump said that "sometimes you need a certain rhetoric to get people motivated," though he insisted that he can act more presidential if he wants to.
Stahl also asked Trump about how exactly he will reduce the copious amounts of lobbying and special interest activity in Washington D.C. when he has several of their specialists on his transition team. When Stahl dug in on this, Trump argued that some insiders are needed so he can effectively phase the inefficiencies out of the government.
On the subject of naming a new justice to the Supreme Court, Trump said that he would appoint pro-life justices that would respect the Second Amendment. Trump said that in the event that Roe V. Wade is overturned, the subject of legalized abortion would go back to the states.
Trump also used the interview to double-down on his promised border wall, though his plan to strengthen the border might not completely be a wall. Instead, Trump said that a "fence" would be sufficient in certain areas, which has been discussed over the last few days among the Republican Congress."
When the subject of the anti-Trump protests came up, Trump said that people shouldn't be afraid of him just because he wants to strengthen national security. When asked about the troubling acts of harassment that have been connected to his rhetoric, Trump said that they it was terrible for him to hear that, and he told his supporters to "stop it."
The discussion went on address a variety of issues, from the presidential salary, to his promise to have a special prosecutor look into Clinton, to his opinion on whether the system is truly "rigged" even though he won.
Trump was also joined by his wife Melania, and his adult children Ivanka, Donald Jr., and Eric. The five of them discussed what is was like for them on Election Night, and what will happen to the Trump Organization now that the real estate mogul will be switching his attention to running the country.
Watch above, via CBS.
[Image via screengrab]
— —
>> Follow Ken Meyer (@KenMeyer91) on Twitter
Have a tip we should know? tips@mediaite.com