WATCH: Drunken Mayor Goes Bonkers After Being Arrested by His Own Police Force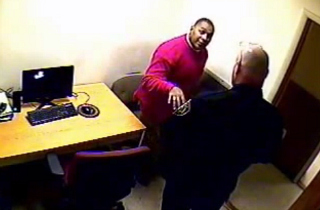 Video recording shows the mayor of an upstate New York village going berserk after being taken into custody, by his own officers, on suspicion of drunk driving.
Monticello Mayor Gordon Jenkins was arrested on Sat., Nov. 16, after arriving late to the scene of a car accident in town. A volunteer firefighter reportedly suspected the mayor was intoxicated and reported such details to the police who, in turn, arrested Jenkins on-site.

After being brought into his own police headquarters for processing, Jenkins is seen on surveillance footage hurling profanities at police officers, reminding them that "I'm the one that hired you" for the job; and that he shouldn't be called "mayor" while in lockup, but instead: "Call me nigger, because that's what I am when I'm right here in handcuffs. But you know something? I don't give a fuck."
Jenkins was also seen threatening another officer: "What are you going to do? Put me in jail five years? I'll get out in five years, and I going to fucking tell you what the fuck you did to me, and I'm going to come back to you."
After several hours and refusing a Breathalyzer test, Jenkins was charged with driving while intoxicated, obstruction of justice, and criminal mischief.
The "criminal mischief" part, according to CBS News, came after Jenkins pulled clock off the interrogation room's wall and threw it out the door after demanding to know who is on-call.
"Why did you break the clock?" an officer was seen asking.
"Because I called you and you didn't answer, and you f*cked … these cuffs are too tight," the mayor replied.
According to CBS New York's report, the mayor and his local police force have butted heads in the past. Three years ago, Jenkins pleaded guilty for selling knock-off sneakers at his local store. He was arrested again last year for allegedly hitting a police officer.
Watch the FULL video below, via YouTube:
And the news report below, via CBS:
— —
>> Follow Andrew Kirell (@AndrewKirell) on Twitter
Have a tip we should know? tips@mediaite.com